Blog | 2022 blog entries
I'm Chuck Miller. Welcome to my live music recording and guitar gear information site and blog. Recording live music performances is my passion. Here you will find links to live music recordings and information about recording live music. You'll also find some DIY projects, reviews of concerts information on guitars and guitar gear, albums, as well as concert posters, tickets, art and photographs and links to some of the recordings I've made of bands over the years.
Many of the recordings I make are with just a stereo pair of microphones located in the audience section of the venue. Occasionally, I'll arrange to get a soundboard feed to mix in with the microphones to make a blended (matrix) recording. This technique takes advantage of mixing a time adjusted, usually dry PA feed with stereo microphones that capture the PA and the audience at the same time. Those are some of my favorite recordings. If all the elements cooperate the results can be very nice.
I don't record bands covertly. Every recording I share here was made with the permission of the band and is available for free download and streaming. I follow the concert tapers code of conduct which means the bands allow me to record their live performances as long as I don't profit from it and I share the recordings freely.
Since the global pandemic hit in 2020, I've also started to discuss guitars and guitar gear.
If you have questions or concerns please contact me. My info is available on the Contact page.


A post-Thanksgiving Friday night feast at Lulu's with Good Morning Accordion Nemesis and Chuck Snow...
Posted originally
November

30, and last updated Dece

mber

1, 2022 by Chuck Miller
Lulu's Downstairs in Manitou Springs, CO hosted another fine night of live local music on Friday, November 25. It was cool outside but nice and warm inside the cavern-like, retro-red decorated music venue which brings to mind a David Lynch movie set.
Good Morning Accordion Nemesis got things started at 8:30 PM with their bombastic style of accordion-based punk rock. They played for about 40 minutes and were received well by the small but slowly growing, enthusiastic crowd.
Chuck Snow and the band ambled onto the dimly lit stage around 9:30 PM and launched their original songs heavy set with "Everybody Wants To Survive" from his 2022 CD Chuck Snow. Next, with a comical introduction story, came a tight, focused reading of "Curtis" from the same CD.
Snow and the band kept the originals coming with "Ghost In the Blood" from his most recent CD release Ghost In the Blood and "The Devil's Cadillac" from the EP New Superstitions.

Four songs into the twenty-song set I

thought Snow and the band were playing well together. I appreciated hearing so many recently released original songs too. Snow wrote, arranged & recorded three CDs in 2022. That's a remarkable feat considering how good the songs are. During the set I felt like we were listening to Snow's musical diary of the period 2020 to 2022 ...and of course so much happened in that span, the pandemic, the polarization of politics in America, gas prices, shootings throughout the country, including in our state of Colorado and so much more. The songs don't always overtly address those things, but those things are in there. In the music and in the ethos of the times. Snow, on this night, was able to access and reflect those tropes to me and the rest of the audience in a palatable manner.

The first cover song of the night was "Pablo Picasso" written by Jonathan Richman for the proto-punk outfit Modern Lovers. That song and its lyrics stood out due to Snow's extra angst-ridden, direct delivery. "Sea Change" another Snow original from Ghost In the Blood has a very commercial vibe and was appreciated by the adoring crowd. American rock band Cracker's hit song "Low" came to mind when I first heard it.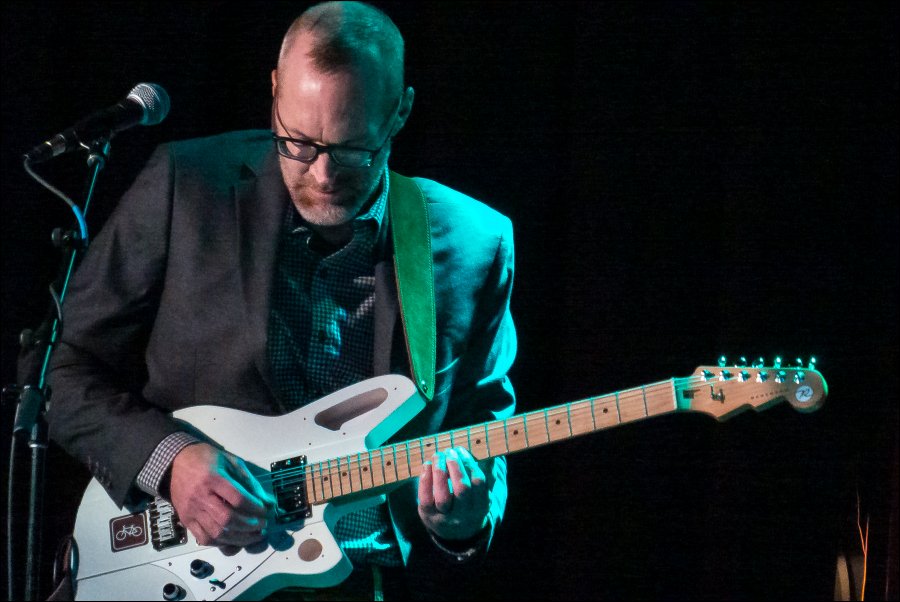 The cover tunes that were played all had an extra snarl in their delivery. The covers included a lounge band rendition of "King Of the Road," and an unplanned take on Lowell George's "Willin'." Another highlight of the night was a medley of "We Gotta Get Out Of This Place" into War's "Low Rider." By the time "Low Rider" was played Snow and the band were loose and playful, especially Snow who sloppily phrased the familiar lyrics in a cynical and mocking manner.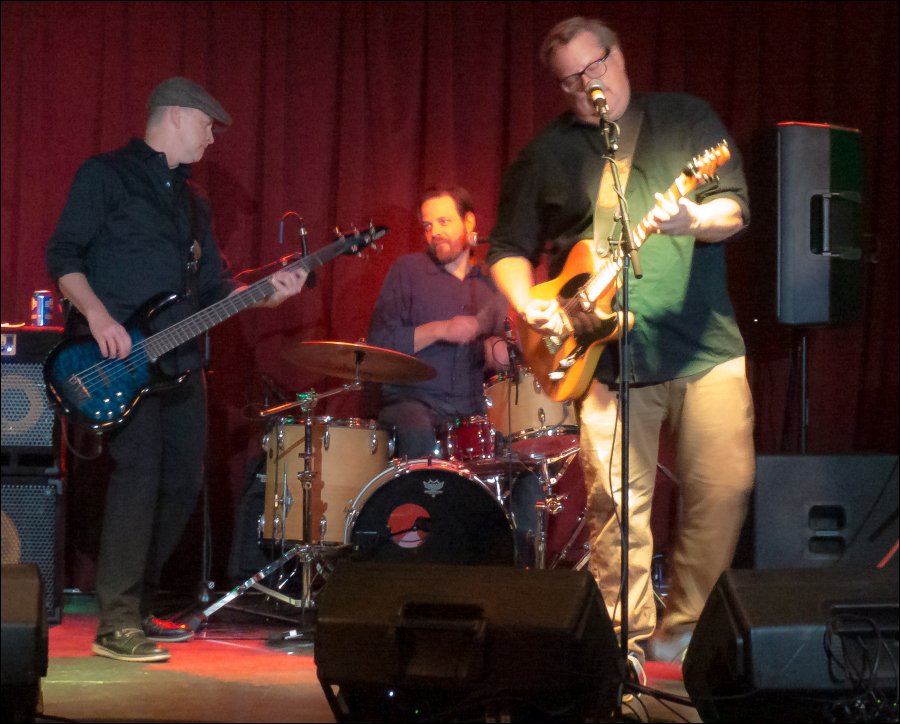 Somewhere in there Snow and the band managed to reward us with a tender reading of "Incomplete" from Ghost In the Blood, the timely "Too Many Rats," the poignant, AutoNo era "This Town" (which was dedicated to Ivor Young the departed AutoNo bassist) and one of my new favorite Chuck Snow originals "Spare Parts." That song shows off some of Snow's best writing, with tender lyrics and the most appropriate music to surround them.
The 98-minute long set concluded with "Used To Be," an original from the recent New Superstitions CD. The show was over at a little after 11 PM, a bit too early in my opinion. There was no encore.
I thought the night of music was great. It's a real treat to hear Snow sing his songs, especially these new songs. For reasons unknown, in the past it wasn't always guaranteed that you'd hear the new songs at his infrequent performances. I still believe this backing band, with bassist, Kevin Waybright, Ed Liptak on saxophone, Pat Collins on guitar, and Donovan Freeman on drums is the best I've heard since The AutoNo dissolved. I hope this project continues and we see even more new music and live performances from Colorado Springs treasure, Mr. Chuck Snow.
I audio-recorded the Chuck Snow set and took some photos of both musical acts. Please use the links below to access them.

Chuck Snow ~ 2022-11-25 Lulu's Downstairs, Manitou Springs, CO
Good Morning Accordion Nemesis - 2022-11-25
Glen Phillips and Garrison Starr treated us to a warm wave of live music at Lulu's Downstairs on Friday night...
Posted originally

November

13, and last updated
November

14, 2022 by Chuck Miller
Lulu's Downstairs located in Manitou Springs, CO, hosted Glen Phillips, the lead singer and guitarist for Toad the Wet Sprocket for a special night of acoustic music on November 11. Grammy-nominated American singer-songwriter Garrison Starr was the opening act. It was a cool night outside, but the room and crowd warmed up quickly inside the intimate venue..
The music started at 8:15PM with Starr belting out her wonderfully well crafted songs. Her set of mostly originals was well received by the capacity seated audience. She had the crowd enthralled with her silky voice, stellar guitar playing, and great stories.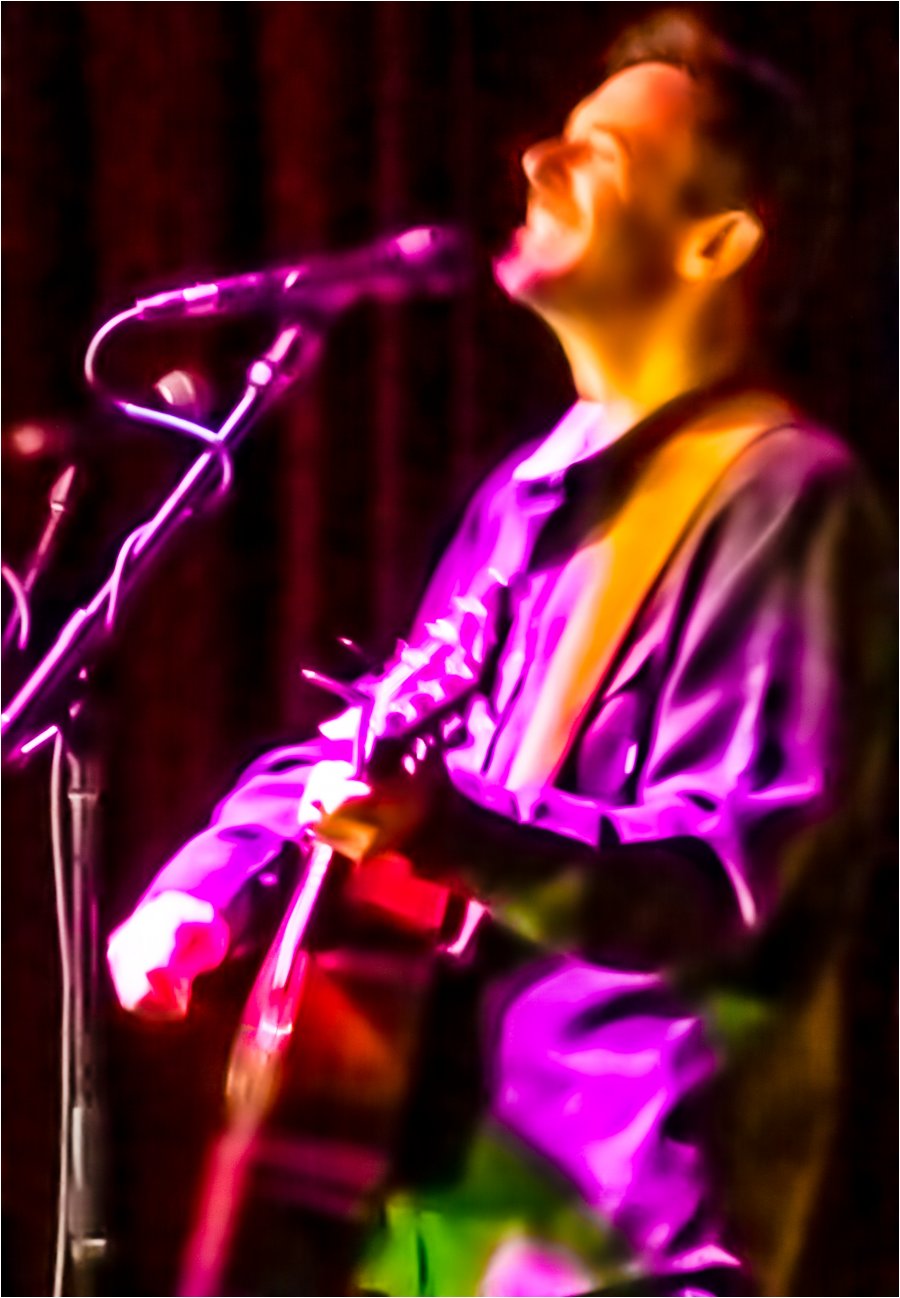 Her wearing an Indigo Girls t-shirt gave a wink and nod to the genre of music we heard. Her short, enthusiastic nine-song set was very enjoyable and felt like it was over a little too soon.
Glen Phillips casually strolled on stage with just an acoustic guitar a little after 9PM. He was so low key about it that the audience didn't react much. There was a lot of grey hair in the music loving crowd for this show, which may explain the more laid back atmosphere.
Phillips played a balanced mix of Toad the Wet Sprocket tunes, his own solo originals, and a couple of covers. The set list included "The Sound Of Drinking" & "Call The Moondust" from his latest solo album There Is So Much Here. Toad originals "Crowing," "Walk On the Ocean," "Whatever I Fear," and "Fever" were also highlighted. The night ended with a moving sing-along rendition of Stevie Wonder's "Sir Duke." It's safe to say those in attendance could "feel it all over" as the concert concluded and we left the venue a little after 10:40PM. The cold Colorado night was easier to bear given the warmth we all felt during and after the show.
I got recruited to help mix sound, so I didn't get to take any photos this time. My step-daughter Laura Austin-Eurich did capture a beautiful image of Glen, which I've included (right).
I recorded Glen's set and have uploaded the recording to the Live Music Archive (LMA). The files can be downloaded and the music can be streamed by following the link below.

Glen Phillips ~ 2022-11-11 Lulu's Downstairs, Manitou Springs, CO
Links to the official artists web sites and the venue are below.

A Hootenanny with Big Head Todd & the Monsters, The Spin Doctors, and Bill and Jilian Nershi in Littleton...
Posted originally October 10, and last updated
October 10

, 2022 by Chuck Miller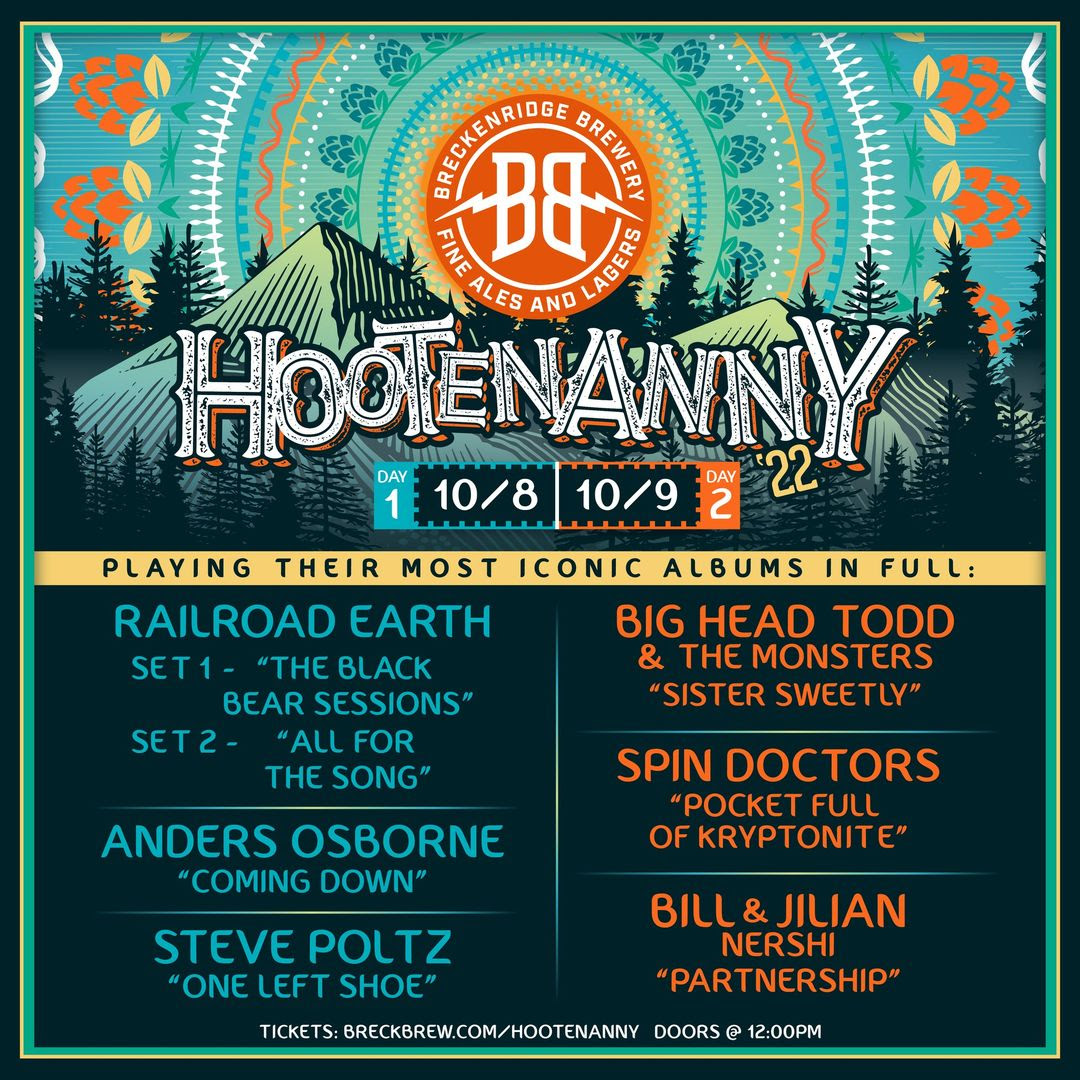 Breckenridge Brewery celebrated its 32nd anniversary by holding their annual Hootenanny concert in Littleton, CO, on October 8 and 9. I attended the Sunday, October 9, event which featured Big Head Todd & the Monsters, The Spin Doctors, and Bill and Jillian Nershi performing their most iconic albums.
There was a sizable crowd already assembled at 12:30PM when Bill Nershi, guitarist and vocalist for The String Cheese Incident, along and his wife Jilian kicked off the day of music by performing their 2020 album partNERSHIp. Their acoustic set was very enjoyable and included covers of Pink Floyd's "Comfortably Numb" and the String Cheese Incident favorite "Smile." They played the 13 song album without deviation to enthusiastic fans.
The diverse Hootenanny audience consisted of families with and without children, beer enthusiasts, music lovers, and event staff.
There were also several food trucks and merchandise vendors dispersed around the venue, which added to the fun and celebration.
Next up, The Spin Doctors launched into their 1991 seminal album Pocket Full Of Kryptonite at 2PM. The opening notes of "Jimmy Olson's Blues" were joyous to hear. I'd never seen The Spin Doctors live, and I was truly impressed. Singer Chris Barron hasn't lost any of his super powers over the years. His antics were fun to watch as guitarist Eric Schenkman shredded those ripping, snaky, electric guitar lines on his cherry red Gibson SG.
The next song, "What Time Is It?", one of the band's biggest hits, sent the growing audience into rapture. The Spin Doctors are a loud, vibrant, and very entertaining alternative rock band from New York City. Their songs just make you want to get up and move. After they ended the album performance with "Shinbone Alley / Hard To Exist" they played some newer songs, which were also very good. They finished their set around 3:30PM.
The weather was very nice with the temperature in the "70's. There wasn't a cloud in the clear blue Colorado sky. The Spin Doctors got the crowd warmed up for the much anticipated Big Head Todd & the Monsters performance of their breakthrough album Sister Sweetly.
BHTM started their set at 4:15PM surprisingly with "Dirty Juice" the first song on the album Crimes Of Passion. So, it was obvious the album was coming later. "Thunderbird" followed. But after that, with a brief introduction from Todd Park Mohr, the band started playing "Broken Hearted Savior." It was beautiful, and we all heard the whole album Sister Sweetly performed from beginning to end. The band still plays several of the songs from that album, but not all of them at the same performance. So, this time it was special. The poignant "Bittersweet" was slightly reworked but still powerful. Hazel Miller came out and lent her gorgeous, soulful voice to several songs, including "Sister Sweetly," and the crowd favorite "It's Alright." There were many loyal BHTM fans in the crowd, and by the reactions to the songs, I know they enjoyed how the concert was going.
After playing "Brother John," the last song on Sister Sweetly, they performed a few other fan favorites including, "Please Don't Tell Her," "Beautiful World" and "Boom Boom." They ended the set with a cover of The Ramones rebellious rocker "I Wanna Be Sedated." It was a wonderful Hootenanny, full of great music, fun people, good food, and great beer. After experiencing the event for the first time, I hope to attend next year.
I didn't audio record these performances, but I did take some pictures. They can be viewed by following the links below.
Big Head Todd & the Monsters 2022-10-09

An EP release party for Chuck Snow with an opening set from Glass Parade at Stargazer's Theatre on Friday...
Posted originally August 21, and last updated August 21, 2022 by Chuck Miller
On Friday, August 19, Chuck Snow held a release party at Stargazer's Theatre and Events Center in Colorado Springs for his latest CD New Superstitions. The night got started right at 7PM with a 45-minute long set by Glass Parade. I'd never seen them before, and I was impressed. Unfortunately, their set (and actually the whole night) was marred by poor sound quality. It was a topic of discussion throughout the night with the people I spoke to. Luckily, both bands' performances didn't seem to be affected by it.
Singer/guitarist Chuck Snow, along with Kevin Waybright on bass, Pat Collins on guitar, Donovan
Freeman on drums, and Edward Liptak on saxophone, started playing a little after 8PM. They played the songs from the new EP along with some appropriate covers and some songs from Snow's other musical projects. It was a fun night that just felt weird. There weren't as many people there as I had expected to see, but the people who did attend were diehard Chuck Snow fans. I saw many faces I hadn't seen in a while, which was nice. It was cool and rainy outside to add to the low key feeling of the event.
The highlight of the night was Snow's new song "Use To Be" from the EP New Superstitions, during which a video played on the huge screen behind the band with photos of local musicians, music scene people, and some of Snow's relatives who are no longer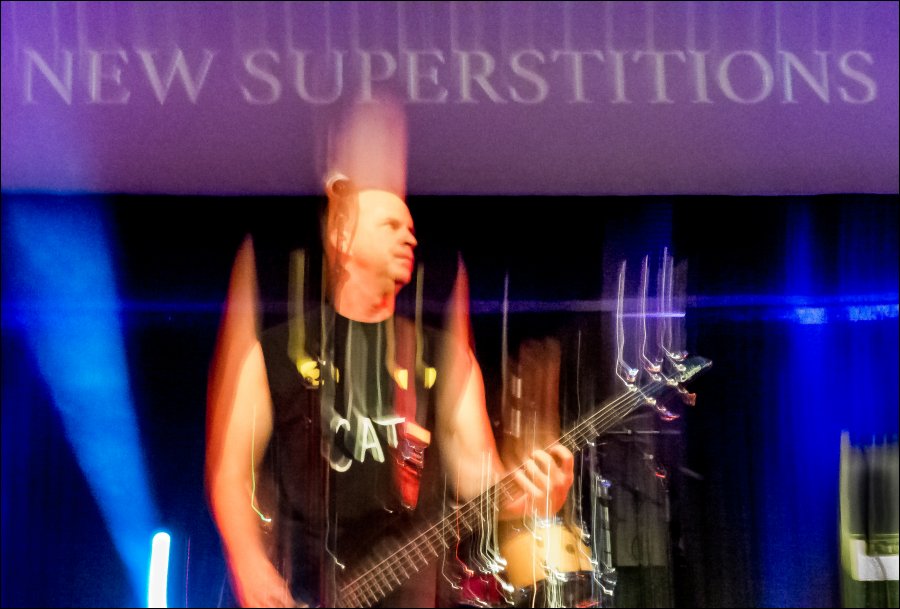 alive. It was thought-provoking and a somber tribute, but it felt authentic and poignant. I was seated right up front, and seeing the images of so many people we have lost over the years had me reveling in nostalgic feelings.
Snow's writing has matured, and his best songs are thoughtful, timely, and more enduring now. His recent single "Whichever Way the Wind Blows" about the Colorado wildfires is a sterling example of that. It's a compelling tome that touches me every time I hear it.
I first saw Snow when he fronted seminal Colorado Springs band The AutoNo in the 1980's. They were very popular and impressive to see live. Snow has formed many new groups over the years, each one usually better than the last. I appreciated this line up and music more than any I've seen since the AutoNo disbanded. There's a graceful maturity now, and Snow has aged into a more distinguished statesman role in recent years.
I didn't make a recording this time, but I did take a lot of photos. Those photos can be accessed by following the links below.

The Tedeschi Trucks Band with Los Lobos and the Gabe Dixon Trio were impressive at Red Rocks on July 29...
Posted originally August 2, 2022, and last updated
August 8

, 2022 by Chuck Miller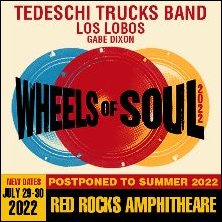 I don't know how Susan Tedeschi does it. That woman can play guitar and especially sing! I can't imagine how she has a voice or any energy left after the performance I saw at Red Rocks Amphitheatre in Morrison, Colorado, on July 29. On that thankfully cool Friday night, I witnessed the three bands play the first of two weekend shows at the spectacular Morrison, CO, venue. It was the best show I've seen so far this summer.
Tedeschi Trucks Band keyboard player Gabe Dixon's band was first up, starting their half hour set right at 6:45 PM. Dixon's voice brought to mind Billy Joel and Jackson Browne for me. His original songs were were very good, too. He also covered Bob Dylan's "Tangled Up In Blue," which got a great reaction from the sold out, surprisingly young (but with plenty of baby boomer aged folks like me) in attendance.
The sold out venue was mostly filled by the time Los Angeles troubadours Los Lobos stepped on stage. They played for almost exactly one hour starting at 7:30 PM. I've seen Los Lobos many times, and at each performance they've gotten the audience up, dancing, and involved. Their eclectic LA-infused folk, Mexicali, nostalgic rock and roll repertoire is infectious. Their offerings included "Evangeline," "Will the Wolf Survive," "Not Fade Away" and a cover of the Grateful Dead's "Bertha" to close the joyous set. I think I've heard them play "Bertha" at almost every show I've seen. Someone once told me that lead singer/guitarist David Hidalgo loved Jerry Garcia and by playing that song, honors him. Whatever the reason, the last two songs really got the enthusiastic music lovers in good spirits for the rest of the night.
The twelve piece Tedeschi Trucks Band filtered on stage at 9:04 PM. They were amazingly casual in picking up their instruments and starting to play right away. The first song was "Hear My Dear" from the new album I Am The Moon: I. Crescent, and that got the night started right.
A few songs in, Susan Tedeschi and Gabe Dixon traded off vocals on "I Am The Moon, " which was simply beautiful. Derek played a gorgeous guitar solo. "Circles 'Round The Sun" followed.
Tedeschi and the singers left the stage as Trucks began playing the highlight of the night, "Pasaquan." Though I had never heard it played live, I was aware of this new instrumental, which is also featured on I Am The Moon: I. Crescent. The song has the same spirit as some of the best Allman Brothers Band instrumentals, like "Mountain Jam" or "Les Brers in A Minor." It gave every musician on stage a chance to show their chops. I was transported back to some of the best Grateful Dead jams I'd heard live as the sound evolved. Sounding both off the cuff and polished at the same time, this number quickly captured my ear.
Cesar Rosas and David Hidalgo from Los Lobos came out and embellished War's "The World Is A Ghetto," and the Charles Segar penned blues standard, "Key To the Highway." It was great to see the rock powerhouses unite for some inspired jamming.
After this, Tedeschi launched into "Part Of Me" and dedicated her own composition "Just Won't Burn" to her daughter. She sang her heart out on both. At this point in the show, I wondered if she was going to be able to sing the next night. But, she wasn't done.
Three more cover songs, "Outside Woman Blues," "I Walk On Guilded Splinters," and another blistering Tedeschi vocal on "I Pity the Fool" followed. Her powerful and controlled vocal delivery was urgent and clear.
The nearly two-and-a-half hour long set ended around 11:20 with the fan favorite "Bound For Glory." On a night sprinkled with plenty of cover songs, the band encored with their rendition of The Coaster's "Let's Go Get Stoned," which had the fans up and singing along. It was a wonderfully joyous and moving night of great music.
I brought a camera and took some photos. However, I did not record the show. But, thanks to friend and fellow taper Richard Skaggs efforts his excellent recordings are linked below. To see more of my photos of the bands, I have also included those links.

Tedeschi Trucks Band ~ 2022-07-29 Red Rocks Amphitheatre, Morrison, CO
Tedeschi Trucks Band - 2022-07-29

Los Lobos ~ 2022-07-29 Red Rocks Amphitheatre, Morrison, CO
Links to the official band web sites and the venue are below.

Reckless Kelly and Carin Mari put on a superb show at Stargazers Theatre in Colorado Springs on April 24...
Posted originally April 25, 2022, and last updated April 25, 2022 by Chuck Miller
Buena Vista, Colorado-based singer, songwriter Carin Mari opened for Reckless Kelly on Sunday, April 24, at Stargazers Theatre. She started playing at 8 PM.
Mari was very, very good -- superb in fact. Her effortless guitar playing and strong voice displayed her awe-inspiring command of the songs, the stage, and the adoring concert goers from the first song until the end of her 45-minute long set. Mari is busy with her solo career and is also the lead acoustic and electric guitar player for Michael Martin Murphey & the Rio Grande Band. She even played Murphey's biggest radio hit "Wildfire" by request from the venue owners John and Cindy Hooton. The approximately 350 fans in attendance rained enthusiastic applause on her at the end of every song. She was truly impressive, entertaining the audience with tales from her life while finger picking her acoustic guitar between songs.
At a little after 9 PM the five-piece Americana and alt-country rockers Reckless Kelly walked on stage. Brothers Willy and Cody Braun, along with Jay Nazz, Joe Miller, and Ryan Engleman played one long set that never flagged. The highlight for me was the mid-set "Wicked Twisted Road" from their eponymous fourth album. I had heard some of their songs but had never seen them perform live. It turns out they are an awesome live band. I'm a big fan now. They had endless energy and kept the audience dancing all night long with their great playing and well-crafted songs.
This was my first time back to the venue since COVID hit, and I have to say it was one of the strongest nights of live music I've ever seen at Stargazer's Theatre. The music, sound, and crowd were that good. The venue's updated PA system and lights are quite impressive and greatly added to my enjoyment of this night of music.
Since it was a last minute decision to go to the show, I didn't bring my recording equipment. Next time either act is in town, I'll make sure to ask them if I can make a recording. I did bring my camera and took some photos, which can be accessed by following the links below.
To learn more about these amazing performers and the venue please follow these links:
The official web site for Reckless Kelly
Carin Mari's official web site
Stargazers Theatre and Event Center web site

Poudre Valley Playboys from Fort Collins, CO played an excellent show at Pikes Peak Brewing on March 26...
Posted originally March 27, 2022, and last updated March 28, 2022 by Chuck Miller
The self described hillbilly-surf band Poudre Valley Playboys played three high energy sets Saturday at Pikes Peak Brewing Lager House in the COATI complex on Tejon Street in Colorado Springs.
Starting at 7 PM they engaged the enthusiastic audience from the start of the first set until they stopped playing after 10 PM. They performed cover versions of songs by Johnny Cash, The Ventures and many others along with several originals in that lively rockabilly style. The songs were short and sweet like "El Cumbanchero" and kept the fans on the dance floor moving.
Guitarist and singer Josh Long along with upright bassist Mark Verschoor were very energetic and entertaining to watch. Most of the songs were instrumental, but Long has a nice voice and sang lead on the songs that had lyrics. They both have an open, friendly and inviting presence on and off the stage. They mingled with the audience, chatting with the people in the bar between sets and after they finished playing for the night. I'm sure they gained some new southern Colorado fans Saturday night. I'm a new fan and am already looking forward to seeing them perform again soon.
For more information about this dynamic duo visit Long's official band web site: Poudre Valley Playboys.
Marshall Fire Benefit Concert a fundraiser for those affected by the wildfires premiered on February 28...
Posted originally March 1, 2022, and last updated March 1, 2022 by Chuck Miller
The pre-recorded musical celebration Marshall Fire Benefit Concert started streaming right at 7 PM on Monday, February 28. The ticket price was $10 to view the star-studded couch concert via veeps.com. The 2 hour, 25-minute long virtual jam-fest was a fundraiser for Boulder County Wildfire Fund to help ravaged survivors of the Marshall Fires. The most devastating fire event in Colorado history started on December 30, 2021, and burned more than 6,000 acres and nearly 1,000 homes in Boulder County, Colorado, in 48 hours. There is at least one confirmed death and one person still missing from the unprecedented catastrophe.
Nick Forster, host of Boulder's nationally syndicated radio show eTown, was the master of ceremonies. He introduced the artists and provided information during the fundraiser. He reported that more than $500,000 was raised and over 6,000 tickets were sold before the event started. The show was produced by legendary Denver concert promoter Chuck Morris & AEG Presents.
The broadcast started with a montage of facts and images detailing the aftermath of the horrific wildfires. So many houses, trees, and vehicles burned down to hollowed out shells. Fittingly, Denver-based jazz, funk, and soul-influenced band The Motet was the first to play. As with most of the acts, the band played in a studio environment with no audience. The sound and video for all the performances was top notch. Amos Lee, Lake Street Dive, Ben Rector, Sara Jarosz, Lyle Lovett, Sam Bush, Michael Franti, and Gregory Alan Isokov where the first group of artists to perform. I thought the performances were much more engaging than I see at typical concert events. It felt like I was in the room with them, and since the music was performed live without overdubs, the songs were fresh and more organic than the studio versions heard on the radio.
Later, there were more engaging performances by The California Honeydrops; Trey Anastasio, who played two Phish songs "Sample In A Jar" and "Ghost;" Nathaniel Rateliff; Kitchen Dwellers; Wynona Judd & Cactus Moser; Dave Matthews; Todd Park Mohr from Big Head Todd & the Monsters; Ryan Tedder from OneRepublic, a band formed in Colorado Springs; and the popular Colorado sextet The String Cheese Incident, who also played two songs film in front of a live audience.
Dispersed between musical acts, Forster, Colorado Governor Jared Polis, U.S. Congressman Joe Neguse, former Denver Governor and now-U.S. Senator John Hickenlooper, and Morris all spoke about the devastation and the efforts to raise money to help the people affected by it. Hickenlooper said that music is healing, but music can't heal it all, so the people who lost so much need our help.
The last group of performers included Old Crow Medicine Show, who performed John Denver's Colorado anthem "Rocky Mountain High;" Yonder Mountain String Band; Steve Miller; Vinyl Kings; and Mihali from the band Twiddle. Denver favorites The Lumineers closed the triumphant night right around 9:25 PM.
I thoroughly enjoyed the whole thing. It was exhilarating to see so many performers donate their time to help raise money for this worthwhile cause. The music was awesome, and the music did indeed add to a sense of healing and community. At almost two and one half hours long, there were no dips in energy the whole time, and I saw quite a few performers I hadn't seen before. I hope they release some of the music as a paid download so I can hear it again.
Though the webcast is over, you can still donate to the cause here: The Boulder County Wildfire Fund. The site has an abundance of good information, and your donation is tax deductible. Please donate if you can. The goal is to raise one million dollars. As of this writing, they are over halfway there.

It's a brand new year and the start of my tenth year producing this live music recording & guitar info blog...
Posted originally January 13, 2022, and last updated January 15, 2022 by Chuck Miller
2022 is not off to a great start with one of the first music festivals of the year, Playing In the Sand headlined by Dead & Company, being cancelled abruptly. Reports are that as some people were on planes, flying to the venue in Cancun, Mexico, the concert organizers cancelled the event. Singer and guitarist John Mayer tested positive and couldn't participate, and drummer Bill Kreutzmann backed out over his own health concerns. That's very disappointing for the band and fans. Hopefully the event will be rescheduled.
I've been slowly getting better at playing the guitar since the pandemic started. I feel like I'm getting back to the playing level I was at in my teens and 20's. I'm also learning more about music theory than I did when I was younger, though I have to admit I still like working on guitars and the associated gear more than I enjoy playing.
I'm still buying inexpensive guitars and fixing them up, but I'm getting much more selective about what I buy. Until recently, I considered it a learning experience to repair and re-sell them. This year, I'm hoping to start making some money for my efforts.
One recent acquisition I'm quite pleased with is a beautiful Shoreline Gold, 2007 Vintage Modified Fender Squire Thinline electric guitar. It's very close to being my dream guitar. I've always been drawn to hollow and semi-hollow electric guitars like this one. It has plenty of upgrades too, including aftermarket Hoagland pickups, genuine Fender tuners, Guyer compensated brass barrel saddles, and full size CTS pots. The stock white pick guard was replaced with a black one, which I think makes it look sharp. It sounds and plays great, too.
I'm going to make an effort to see and record some Red Rocks concerts this summer. Music is always such a pleasure, but the venue is equally important to the experience. I didn't see any shows there last year because of COVID19 concerns. This year I want to experience concerts again in that other worldly setting in Morrison, CO.
Lulu's Downstairs in Manitou Springs is becoming my favorite local venue. It's only about 15 minutes away. The sound and stage are good,
and I can make excellent recordings in there. I'd like to see and record more shows at Lulu's in 2022.
So, stay tuned for more reviews and live recordings from me this year. I'm optimistic and hoping we get a handle on the coronavirus and society gets closer to the old normal. I don't think it'll take much to make 2022 better than 2021.
All blog entries... | 2023 | 2022 | 2021 | 2020 | 2019 | 2018 | 2017 | 2016 | 2015 | 2014 | 2013 | 2012 |
© time between the notes... 2012-2023 All rights reserved.