Home | 2021 blog entries
I'm Chuck Miller. Welcome to my live music recording and guitar gear information site and blog. Recording live music performances is my passion. Here you will find links to live music recordings and information about recording live music. You'll also find some DIY projects, reviews of concerts information on guitars and guitar gear, albums, as well as concert posters, tickets, art and photographs and links to some of the recordings I've made of bands over the years.
Many of the recordings I make are with just a stereo pair of microphones located in the audience section of the venue. Occasionally, I'll arrange to get a soundboard feed to mix in with the microphones to make a blended (matrix) recording. This technique takes advantage of mixing a time adjusted, usually dry PA feed with stereo microphones that capture the PA and the audience at the same time. Those are some of my favorite recordings. If all the elements cooperate the results can be very nice.
I don't record bands covertly. Every recording I share here was made with the permission of the band and is available for free download and streaming. I follow the concert tapers code of conduct which means the bands allow me to record their live performances as long as I don't profit from it and I share the recordings freely.
Since the global pandemic hit in 2020, I've also started to discuss guitars and guitar gear, since live music events have sadly all but disappeared.
If you have questions or concerns please contact me. My info is available on the Contact page.


CO Springs' rock band The AutoNo reunited for Kirk Moore's 60th birthday at Lulu's Downstairs on Saturday...
Posted originally December 5, 2021, and last updated December 6, 2021 by Chuck Miller
The AutoNo, one of Colorado Springs' most successful rock bands, reunited to celebrate drummer Kirk Moore's 60th birthday on December 4. The short set at LuLu's Downstairs in Manitou Springs was the main event, which also featured a slide show documenting moments in Moore's life on and off the stage.
There was a very good-sized crowd who came out to see Moore, guitarists/singers Chuck Snow and Mark Junglen, and bassist Kevin Waybright play a set of mostly original songs, with some crowd-pleasing covers thrown into the mix.
The band started playing around 9:15 PM and left the stage an hour and 5 minutes later to rousing applause by the adoring crowd.
Frequent Snow collaborator Kevin Waybright filled in for original band bassist Ivor Young, who passed away in March of 2015. Young's absence was noted by the band and it turned out to be a memorable night not only for Moore and the band, but for the faithful fans in attendance.
I took some photos of the festivities which can be accessed by following the link below. I also made an audio recording. The link to that recording hosted on my recordings page is also below.

The AutoNo ~ 2021-12-04 Lulu's Downstairs, Manitou Springs, CO
Sean Kelly and The Samples fed their faithful fans in Manitou Springs on Friday night and everyone left full...
Posted originally October 10, 2021, and last updated October 11, 2021 by Chuck Miller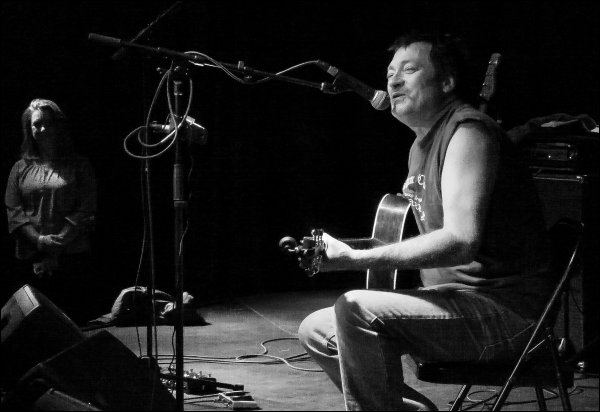 The Samples, led by singer/guitarist Sean Kelly, walked out onto the stage at Lulu's Downstairs in Manitou Springs at 8:25 PM on October 8. It has been a while since the band played in the Colorado Springs area, so there was a good sized audience to greet them.
The first song of the night was "Seany Boy (Drop Out)" from the 1992 album No Room. The autobiographic rocker got the night started out right. The dance floor started to fill up, and the enthusiastic crowd got a tasty appetizer before the main course.
"Did You Ever Look So Nice" also from No Room dispersed any doubts it was going to be a great night at Lulu's. The audience rewarded the band with rousing applause, and it started to feel like a special night.
"Nature" and "My Town" followed. I noticed the songs were not as jammed out as I have heard them in the past, but the shorter versions allowed for more songs in the sets.
Kelly played an acoustic solo version of Neil Young's "Cowgirl In the Sand" followed by another Neil Young classic "Old Man," which was requested by a fan up front. Will James lent his sweet harmonies to "Old Man" to elevate it.
The set closer was "Could It Be Another Change" from the band's eponymous first album. That album was my gateway to The Samples and any song played from that disc is greatly appreciated. At this point, I felt like the sound was dialed in and and band was really connecting with the fans.
After a short break, James came out and performed an acoustic cover of the song "Screenplay" by his side band, Blue Street Walls. This was a highlight of the evening for me. Accompanied by keyboardist Jeremy Miller, James received a warm reception from the adoring crowd. When the full band came out, they launched into one of the best Samples' songs "Little Silver Ring." Halfway through the set, I heard a female voice from the front of the stage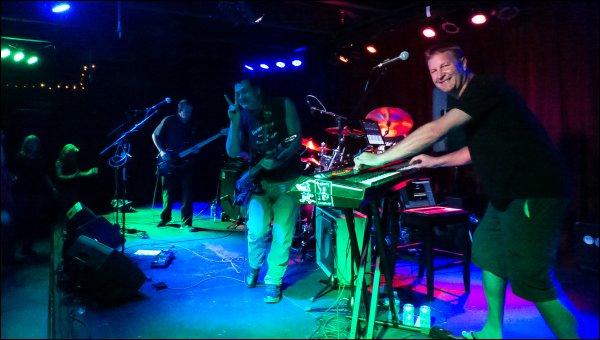 request "Weight Of the World," my favorite song by The Samples. The band obliged and provided another high point.
Next, Kelly and James performed a stirring rendition of the Simon & Garfunkel masterpiece "The Boxer" during which James, singing harmony, shed tears on stage.
The rest of the band came back out and launched into an unexpected cover of The Doors apocalyptic "The End." For me, this was the most memorable moment of the night, as Kelly steered the band into including a few verses from the Crosby, Stills & Nash epic "Suite: Judy Blue Eyes." Fittingly, the band veered back into "The End" and left the stage. Following a loose Samples' tradition, they didn't return for an encore, but everyone left happy and filled with a night of great music from the band.
This was my first time making a soundboard/audience recording since the pandemic started. I have to say, I was energized by the experience and hope to continue doing more band recordings in the future.
Some photos I took and the recording I made can be accessed by following the links below. Thanks to venue front of house sound engineer Tim "Timbo" Illian for the great mix and assistance in making this recording.

The Samples ~ 2021-10-08 Lulu's Downstairs, Manitou Springs, CO (Live Music Archive)
Visit The Samples official web site
Visit The Samples Fan Page on Facebook
Visit Sean Kelly Of The Samples Facebook page
The Davenport Band's annual concert at the Hillside Gardens Events Center on Wednesday was a real treat...
Posted originally July 29, 2021, and last updated July 29, 2021 by Chuck Miller
Colorado Springs own The Davenport Band performed at the Hillside Garden Events Center in Colorado Springs on July 28 from 6 PM until around 9 PM. It was a warm night, but thankfully there was a gentle breeze blowing through the venue while the band played. The event was well attended because the band has a large following, the weather was good and the venue is so lovely due to it's bucolic setting.
The band played music by the Grateful Dead, The Eagles and many others plus they covered an old GyzUnGlasus tune "Dropping the Kids Off at the Pool." Plenty of people danced while the band played one long set.
The price of admission to the concerts at Hillside Gardens has gone up over the years. When we first started going it was $7, now it's $15, which includes a free drink ticket. Still not bad, but it's noteworthy. The venue itself is an oasis in Colorado Springs. It's easy to forget where you are when you're in there because of the beautiful flowers, paths and trees that are prevalent in the large open space.
I took pictures which can be found by following the link below.
The Davenport Band - 2021-07-28

Vinyl records: Goodbye Yellow Brick Road and Captain Fantastic and the Brown Dirt Cowboy - by Elton John...
Posted originally May 21, 2021, and last updated May 27, 2021 by Chuck Miller

"Snow.
Cement,
And ivory young towers,
Someone called us Babylon
Those hungry hunters
Tracking down the hours.
But where were all your shoulders when we cried,
Were the darlings on the sideline
Dreaming up such cherished lies,
To whisper in your ear before you die."
I've been listening to a lot of LP records recently. I have two of Elton John's bests albums on first pressing vinyl from my old album collection. Goodbye Yellow Brick Road & Captain Fantastic and the Brown Dirt Cowboy. I used to play Goodbye Yellow Brick Road so much as a teenager I figured I'd worn the grooves out, but 48 years later it still plays pretty well. "Grey Seal" was the cut from that two record set that I played the most back then. There are so many diverse songs and they are all so good it's futile to attempt to pick the best ones.
But, it's the album Captain Fantastic and the Brown Dirt Cowboy that is the revelation to me now. A girl friend gave it to me for my 15th birthday as I was leaving Liverpool, NY for Clifton Park, New York in 1975. I didn't listen to that one as much back then, but I can't stop playing it now. For reference, it's the EJ album that has "Someone Saved My Life Tonight" on it. As with Goodbye Yellow Brick Road, there isn't a bad song on the whole record. It only has one official hit, but it's a better album than GYBR. Recorded at Caribou Ranch near Nederland, CO it is so well written, performed and produced it's an EJ sleeper album. "Tower Of Babel" quoted here, should have been the big hit from this album.
For me Goodbye Yellow Brick Road and Captain Fantastic and the Brown Dirt Cowboy were his pinnacle. Listening to these EJ records along with the early Chicago records when I was a kid was what made me a music lover for ever. Listen to Davey Johnstone's sublime guitar playing on the whole Captain Fantastic album and John's impassioned vocals. Ah... Don't let the way over the top album art distract you, there is some serious music to listen to behind that crazy record jacket.
"It's party time for the guys in the tower of Babel.
Sodom meet Gomorrah,
Cain meet Abel.
Have a ball ya'all
See the letches crawl
With the call girls under the table.
Watch em' dig their graves,
'Cause Jesus don't save the guys
In the tower of Babel."


Part II: My experience buying one of the cheapest electric bass guitars for sale online - Exquisite Stylish IB...
Posted originally April 5, 2021, and last updated April 5, 2021 by Chuck Miller
*** Please read the blog entry below dated March 31, 2021 first, to get the full story on this inexpensive electric bass upgrade project. ***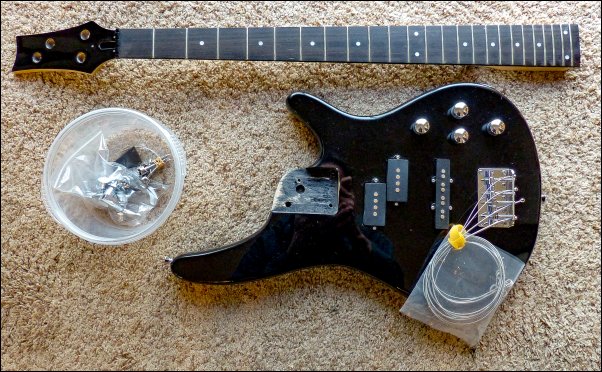 I disassembled the new Exquisite Stylish IB bass and took some more measurements. The pickup resistance for the P-style pickup was 8.4k, 6.66k for the J-style pickup, and 3.77k for both pickups combined. That jives with what I heard when I first tested the pickups. The neck pickups sounded louder then the J-pickups on the bridge.
There were no shims under the neck pocket. But, the neck pocket and control cavity were really grungy. The manufacturer put this instrument together very quickly and without taking the time to clean up after doing the routing. The front and back of the neck were also covered in a very thin layer of dark dust.
So the first thing I did was wipe the whole thing down with a damp cloth. Next, I taped off the front of the headstock and nut so they wouldn't get scratched up while I was sanding and preparing the neck. Then, I dry-sanded the back of the neck with 1200 grit wet/dry sandpaper followed by 0000 steel wool.
Next, I applied Watco Rejuvenating Oil using a clean paper towel to the back of the neck. I've tried multiple coats on necks like this in the past, but I've found one coat works just fine. Two or more coats doesn't feel as good. I let that dry for 24 hours before continuing any work. Then I used 0000 steel wool again to make the back of the neck slick and smooth. I have grown to love the way the back of the neck feels after using that technique. It's fast and doesn't grab like polyurethane finishes do and makes getting up and down the neck a lot easier, especially on a thick neck like this one.
Another decision I made was to keep the original nut that came stock on this guitar. I tried to find a new one locally, but had no luck. So instead of paying for shipping just for that, I figure it'll work fine for now, and I can easily install a new one at a later time.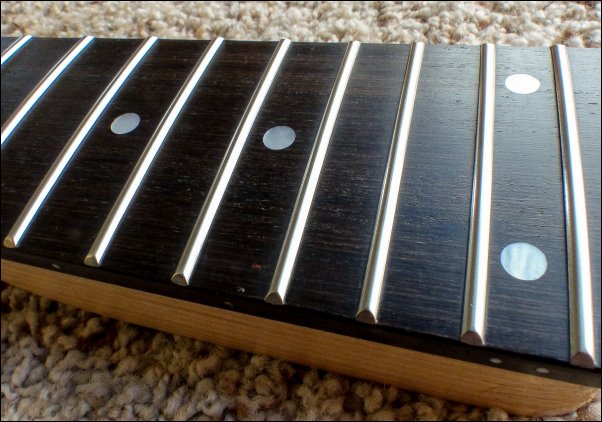 The next step was preparing the frets and fingerboard. I used a fret rocker to find high spots on the frets and was disappointed to find that most of the frets had trouble areas. I've had good luck with frets in the past and hadn't had an instrument that needed this much fret work on it so far. So I marked the high spots with a black Sharpie and removed the marks with a crowning tool. Some needed more work, so I repeated the process until they were all level, and I wiped the fret board down to remove the metal shavings left by the crowning process.
I like polished frets, so I scrubbed each fret with 0000 steel wool while using metal fret protectors so I didn't scratch the rosewood finger board.
I continued by addressing the dirty fingerboard. I folded up small pieces of 800 grit sandpaper and scrubbed between the frets following the grain to remove the dark dust grime that was left there from the manufacturing process. The finger board looked much better after that. The fret ends were not sharp on this bass, especially after the fret polishing I had done earlier, so I just wiped the whole neck down with 0000 steel wool again. Now the neck feels so nice and smooth. It's finally starting to become an instrument I want to pick up and play. I finished the finger board with two applications of Old English Lemon Oil and let it dry over night. The photo above shows the results.
I can address the rats' nest of wires under the back control panel at a later time, especially if I decide to keep this bass and upgrade any of the electronics.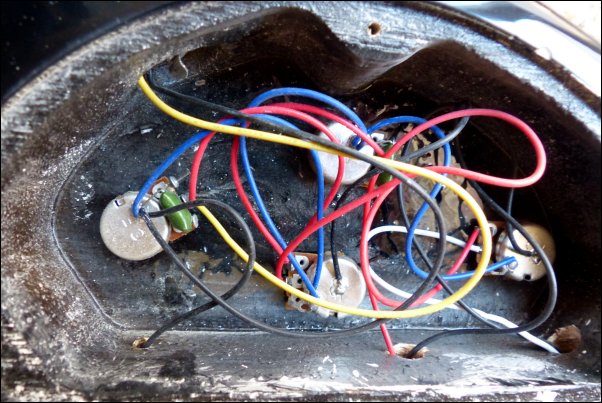 I applied a little bit of car wax to the black painted headstock before re-installing the tuners. I numbered each tuner key with a fine black Sharpie to identify the position of the tuners and kept all the parts for each one separate as I removed them. That way, I knew they would fit exactly so I could use the same screw holes when it's time to re-attach them. A paper towel and some denatured alcohol easily removed the Sharpie marks after I reinstalled the tuners.
When I work on guitars, I like to check that the ground wire from the bridge is connected to the ground on the ring of the output jack before going any further. I use a multi-tester set to "continuity" to check that. After attaching the tuners, I reattached the neck. This guitar doesn't have a neck plate, so there are four ferruled screws to insert that hold the neck against the body. I'll readjust the neck seating again as the next step.
It's time to re-string the guitar (with the old strings) and do that neck reseating. I'm using the old strings because I have to readjust the neck position in the pocket through trial and error and don't want to do that to new strings. The reason for the reseat is that the strings aren't aligned properly on the neck or over pickups. I learned the procedure by watching the video How To Fix Bad String Alignment On Fenders & Squiers Sharpen My Axe by Phillip McKnight on YouTube. McKnight explains how to fix this condition perfectly if you ever run into this problem. Though he does this on a Fender guitar, it works for most bolt on neck electric guitars and basses.
After fixing that issue, I did a full setup on the guitar. I set the neck relief at .009" on the 8th fret, while depressing the E string on the 1st and last frets. I've read that anywhere from .004" to .020" is good for bass. I set the action at the 12th fret as low as I could without excessive buzzing. I intonated the four strings and then turned my attention to the nut. The nut was not in bad shape, but I lowered all the slots so there was around .022" clearance on all strings on the 1st fret. I did a rough adjustment on the pickup heights, setting them all at around .140" unfretted. Then I started to play.
I can only make direct comparisons to it and my Korean made Squier P-bass. With just the neck pickup selected only on both, and with tone and volume up full, the Squier has much more volume and fullness and is also brighter. The new guitar sounds muddy in comparison -- same with the J pickup on the newer guitar. I couldn't get a sound I liked using any combination of pickups on the Exquisite bass. That was very disappointing. I really thought it would sound better than this.
So, not satisfied at all with the sound, I found a pair of P and J-style pickups pulled from a 2001 made in Mexico Fender P-bass hybrid for sale on Facebook Marketplace. I bought and installed the Fender pickups on the same day. Those new pickups made all the difference. The instrument now sounds full and lush and has a very pleasant tone to it. It sounds better than my Squire P-bass in some respects. I also have the second option of using the jazz pickups, which I am starting to appreciate. The J's have a more aggressive sound and favor the upper bass frequencies. I'm so happy I found a set of pickups that sound good in the guitar.
I'm going to practice with it and see if there are any other modifications I want to make. I can see this instrument replacing my Squier P-bass from what I'm hearing and feeling so far. I'll report back after I spend some more time with it.

My experience buying one of the cheapest electric bass guitars for sale online: The Exquisite Stylish IB bass...
Posted originally March 31, 2021, and last updated March 31, 2021 by Chuck Miller
Recently, I decided to purchase a new, inexpensive electric bass to fix up and eventually learn to play better. My research led me to the Official Exquisite/Glarry/Burning Fire Bass Club on TalkBass.com. The group's primary focus is discussing in depth some of the cheapest bass guitars available online. After doing some reading there, I found one I liked.
The Exquisite Stylish IB bass purchased from seller yallstore on ebay cost me $82.28, which included tax and shipping to Colorado Springs, CO. That's the best deal I could find online and rivals the best prices I've seen on the least expensive 6-string electric guitars lately. I ordered the black, PJ style, 4-string version on a Friday night, and it arrived the following Tuesday afternoon. PJ style means it has two sets of pickups, P-bass (split coil) and J-bass (single coil), on one instrument. In the 1980's the instrument company Ibanez started producing and selling hybrid PJ style basses. I assume that's where the IB in the descriptive name of this guitar came from.
Brand new, really cheap guitars imported from China often arrive with annoying problems such as sharp fret ends; dried out fret boards; loose tuners, control pots, and jacks; poorly adjusted intonation and action; and improperly set neck relief. Those are the types of issues I enjoy fixing and have found make a significant improvement in the likability and playability of an inexpensive guitar. Let's face it: if a guitar doesn't feel good in your hands, you're not going to play it much.
When I picked the box up off my front porch, I could not believe how light it was.
Once I brought it inside, I carefully opened it and inspected the guitar and found the neck, body, tuners, and headstock had survived shipping without harm. Being so light perhaps helped it avoid damage in transit. The shipping provider was OnTrac. In the box was the guitar wrapped in a see-through thin Styrofoam bag tied with a rubber band around the third fret. There were small pieces of Styrofoam glued to the inside of the box in strategic places and a bigger piece that is meant to stabilize the neck in shipping. But, that was in pieces inside the box. Also included was a small desiccant pack and a zip lock type bag that contained two Allen wrenches and a thin, guitar cord with molded 1/4" straight to 1/4" right angle connectors. Small pieces of Styrofoam were all over the inside of the box after I opened it and took the guitar out.
My analog scale had the instrument weighing in on the low side a little over 6.25 pounds. It didn't have the same headstock shape that was pictured on ebay, but that's not a big deal to me. I've handled enough of these Chinese made guitars to recognize the rough back on the maple neck. It feels unfinished to me, but I've read that there is actually a light finish on it. That's one thing I will work on when the time comes. I've come to find something like that is a matter of preference. I just prefer a smoother (faster) neck. I plugged it into my Fender Rumble 75 amp and found the pick ups and controls all work perfectly.
The strings were loose, so I brought the tuning up to 440Hz concert pitch and started measuring the setup on it. The string gauges are .047" for the G string, .059" for D, .079" for A, and .098" for the D string. So, I'd call those light gauge. They will be replaced before I do the final set-up. The neck relief, measured at the 8th fret with a capo on the first fret and fretted at the 18th fret, was .019" on both sides. Though that's a bit high, it's actually good news because it means the neck is probably not twisted. A visual inspection confirmed that the neck is straight. The action on the E and A strings was .140" and .150" on the D and G strings at the 12th fret. Again, that's high but easily corrected. The intonation was really close on the E and A strings a few cents sharp on the D and G strings. Nut height for all strings with a capo on the third fret measured at the first fret was .015", which might work as is.
So far, this Exquisite Stylish IB bass is spec'd out surprisingly well. Every issue so far can be corrected. The saddles were set high, so lowering the action won't require a neck shim, which is a good thing. With the strings depressed at the last fret, I measured the pickup heights at .130" for the E and A strings and .140" for D and A on both sets of pickups. Those heights should be adjusted eventually, and that's easy enough to do. With a strap attached while holding the guitar in playing position, there is minimal neck dive, which I find amazing because the body is so light. The neck is thick however. "Baseball bat neck" is how I've heard it described, which seems about right for almost all of the Chinese made guitars I've tried. But for me, that's not a problem. My favorite Telecaster copy made in China has one of those thick necks, and I found that I loved to play it after I sanded and sealed it. The fret board is more of a rosewood composite than typical rosewood -- same as my cheap Tele.
Without adjusting anything other than tuning, I plugged it into my amp and started to play. I noticed the action is set way too high, which I knew from the measurements I had taken earlier. There is no fret buzz because the nut height and action is set so high. The output of the neck pick up is a bit lower than on my Korean made Squier P-bass. It has a nice round tone, not too bright, so I didn't have to back off the tone control much. Of course, this has to be re-evaluated after I reset the pickup heights. The bridge pickup is brighter of course and has a lower output than the neck pickup. It'll be nice to blend that in if the neck pickup sounds as mellow after a proper setup is complete. There's also not much hum from it when I'm not playing. I like to play seated, but standing up and playing it is nice because it's so light. After playing for a bit, I noticed that the strings are shifted over closer to the E string side of the neck, but I can remedy that. The output jack makes a solid connection with the plug, so I won't replace it. The fret ends are not sharp, but they could use some minor dressing.
I like the styling of this bass. It looks cool, but it does have a cheap feel to it in my hands, as it is. I'm sure after I sand and properly seal the back of the neck, it'll feel much nicer. I like the tuners on this more than the tuners Fender used on my Squier bass, and I found the guitar stays in tune rather nicely.
There are some more measurements I want to take, and I want to look under the hood, so to speak, at the electronics. So, the next step is to tear it down to wood and hardware. I have to do that to change the nut and and to seal the neck and reseat it in the neck pocket to correct the strings being pushed over to the E side too much. I'll also check for high frets, polish the frets, and measure the resistance of the pickups.
The next steps are going to take a while, so I'll sign off this blog entry and start another after I get the guitar disassembled and figure out what else I want and need to do to it.
Updates on guitars, guitar gear, Kmise Ultimate Drive revisited, and recording concerts again in the future...
Posted originally March 5, 2021, and last updated March 5, 2021 by Chuck Miller
I haven't recorded any live music since July 2020. I'm wondering if I still have the desire to do that anymore. It's been so long. I still have my recording gear for when things pick up in the live concert business and recording starts appealing to me again, just in case.
In the meantime, I am getting more serious about playing guitar. I've acquired several guitars and have gotten my rig sounding pretty good. If only I could play better... Practice, practice, practice.
I bought a nice-sounding used VOX VT30 practice amp, which I'm really enjoying playing through lately. It has a very distinctive sound, and it encourages me to play harder edged music than I typically gravitate towards. More than half of the amp simulations on it have a high gain distortion sound. That pushes me out of my comfort zone, which is a good thing.
I have grown surprisingly fond of the Kmise Ultimate Drive pedal I reviewed in September 2020. At that time I still liked the Kmise US Dream pedal more, but after playing with the Ultimate Drive, I decided it's a better pedal for me. It's the only Kmise pedal I still own. I can get warm mild overdrive sounds from it, and recently, I found it can emulate a Big Muff pedal fairly well for some David Gilmour-style lead playing. The photo on the left shows the settings I use for that Gilmour Big Muff sound on things like the solos on "Comfortably Numb" on the Pink Floyd album The Wall. It's fun and challenging to try to emulate sounds and tones like like that on the cheap.
The guitar I pick up to play most often is still the DIY telecaster I wrote about in my last blog entry. I like the way that guitar feels and plays. I did buy a Fender Squire telecaster that sounds and plays great, too. I'm leaving the Fender stock and using the Ole Purple Bahama to experiment with different pick-ups and modifications.
Hopefully, I'll have more to write about soon. These uncertain times are really making an impact on what I loved to do -- record concerts. I suspect I'll start picking select events to record once national and regional bands start touring regularly again. When that happens, I'll write about it here.


My latest COVID-19 project - A refinished and electronically modified Telecaster-style electric guitar...
Posted originally January 7, 2021, and last updated January 8, 2021 by Chuck Miller
Happy New Year! Last year was pretty rough for many people, live music and the creative arts in general. I hope for a kinder and gentler and more artistic and musical year. I welcome 2021.
I didn't see any live music at the end of last year, but I have been keeping connected with music through electronics and guitar projects.
Continuing with my resurrected interest in guitars and since there are no live shows that I can record taking place now, I've been buying inexpensive and damaged guitars and fixing them up. I've sold some and kept others. This one is special. I really like it and will be keeping it.
In October I traded an acoustic guitar I had for a Telecaster-style electric guitar constructed by local musician Scott Janecek. He built the guitar using a good quality online guitar kit. Those kits include separate, individual components such as the unfinished wood body and neck, the hardware, switches, screws, electrical components, pick-ups, wires, and the pick guard. I'd never owned a Telecaster, so I was anxious to acquire this unbranded DIY guitar.
The possibility of owning a custom, built-from-scratch Tele-style guitar appealed to me. I was drawn to the deep purple colored body contrasted with the white pick up cover initially. I saw this as a perfect guitar for me to learn about guitar construction and to add my own refinements to. It plays and looks great and has been my go to guitar for practicing scales and learning new licks lately. The original guitar I dubbed "Ole Purple" is pictured on the right.

The original guitar played well, and I discovered that I love the Telecaster twang. But I wasn't happy with the finish on the back of the neck. It had a glossy polyurethane feel and was not very smooth feeling to me. That was the first issue I wanted to work on.
So I decided to disassemble the guitar to remove the neck from the body. I stripped the purple paint off the back of the neck and the headstock. Next, I sanded and refinished it with some Watco Rejuvenating Oil. The last step was to use 0000 steel wool to smooth the back of the neck. That made the neck feel much smoother, but unfortunately, it gave the guitar a different look which I didn't care for. Right around that time, I saw a photo of a sea foam colored guitar that had been distressed to reveal purple underneath. Here is a link to that photo that sparked my interest in changing the color(s) of the guitar. The contrast of the pastel blue and purple inspired me to continue the refinish.
While I was researching how to get that look, I found this online article on https://www.premierguitar.com/ which details how to give a Telecaster two more sounds by changing the pickup control switch and adding a couple of capacitors. It's called the Bill Lawrence 5-way Telecaster circuit. After seeing that excellent, detailed article, I decided I had to incorporate that circuit into my guitar. I always appreciate having more available voicing options on an instrument. Doing this mod was right up my alley.
On the left and right are photos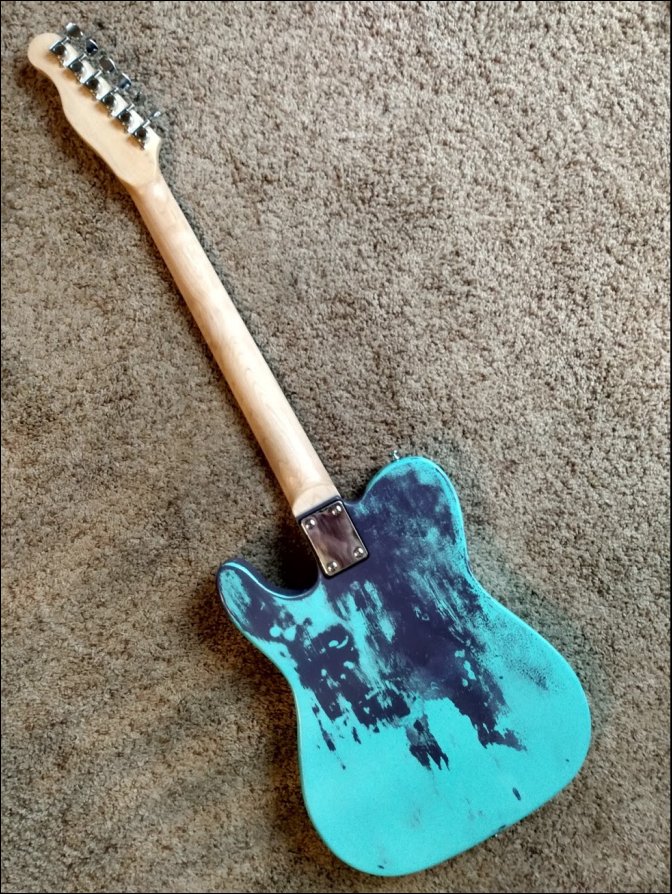 of the finished instrument. I decided not to actually relic (artificially age) it, which has become so fashionable lately. My goal was to treat it more like a beautiful piece of art. The distressing I've seen in many online photos go a little too far for me. I want the guitar to look like it is loved, and cared for, not neglected and abused. I chose the specific saturated pastel top color as it evokes a California beach vibe that appeals to me. The primary technique I employed to achieve this look was to first paint over the original purple color with DecoArt Americana brand Bahama Blue acrylic paint I purchased at a local hobby store. I then hand sanded and lightly scraped select areas to reveal the gloss purple color underneath. I didn't take it down to bare wood anywhere. That would have given it an obviously artificially aged look, which is being used lately to approximate heavy wear on certain areas of a guitar body. With this more gentle approach, I was also able to preserve that original purple color that caught my eye when I first saw it.
Since the guitar didn't have any branding on the headstock, I designed and applied my own logo using waterslide decal paper printed with my laser jet printer. That headstock decal is pictured on the right.
After the painting and re-painting, sanding, and steel wool abrasion, I sprayed several coats of protective clear polyurethane gloss over the whole body and front of the headstock. I felt that was a little too glossy, so I sprayed two coats of semi-gloss over it. That knocked down the sheen, and now I'm quite pleased with the way it looks.
I've played the finished guitar enough to know that I'll be using the new 5-way switch modification often. I especially like the 4th position on the switch that allows for the out-of-phase parallel pickup combination that sounds so good on Stratocaster guitars. The new pickups I installed sound great. The original neck pickup had a more clouded sound to it. Now it's much more balanced and clearer sounding. This makeover inspires me to play the guitar more, too.
Now, I have to find another Winter COVID-19 project to do.
All blog entries... | 2023 | 2022 | 2021 | 2020 | 2019 | 2018 | 2017 | 2016 | 2015 | 2014 | 2013 | 2012 |
© time between the notes... 2012-2023 All rights reserved.