Blog | 2019 blog entries
I'm Chuck Miller. Welcome to my live music recording information site and blog. Recording live music performances is my passion. Here you will find links to live music recordings and information about recording live music. You'll also find some DIY projects, reviews of concerts and albums, as well as concert posters, tickets, art and photographs and links to some of the recordings I've made of bands over the years.
Many of the recordings I make are with just a stereo pair of microphones located in the audience section of the venue. Occasionally, I'll arrange to get a soundboard feed to mix in with the microphones to make a blended (matrix) recording. This technique takes advantage of mixing a time adjusted, usually dry PA feed with stereo microphones that capture the PA and the audience at the same time. Those are some of my favorite recordings. If all the elements cooperate the results can be very nice.
I don't record bands covertly. Every recording I share here was made with the permission of the band and is available for free download and streaming. I follow the concert tapers code of conduct which means the bands allow me to record their live performances as long as I don't profit from it and I share the recordings freely. If you have questions or concerns please contact me. My info is on the Contact page.



Wilco's latest studio album Ode To Joy starts as an ode to the mundane but develops into much more...
Posted October 6, 2019, and last updated October 6, 2019 by Chuck Miller
Chicago, Illinois-based alternative rock sextet Wilco released Ode To Joy, their eleventh studio recording on Friday, October 4. It's a slow building but ultimately very satisfying 11 song journey.
The album begins with an ominous, plodding drum beat that dismisses the notion that the title reflects the obvious reference to Beethoven's Ninth Symphony and the joyful chorus contained within it.
With subdued band accompaniment and desolate, dispassionate delivery, band leader Jeff Tweedy starts singing the first track "Bright Leaves."
"I don't like
The way you're treating me
Warm winter rain
I found my keys
Under the snow"
This heavy kick off for a new Wilco album didn't surprise me given that some of the songs on Tweedy's April 2019 solo effort, Warmer, had a similar feel. Though that album has an embracing warmth to it, this song feels cold and alone.
"Before Us" continues along the same path but is more developed and includes an interesting guitar hook. Nonetheless, there is still a quilted winter blanket like heaviness to this and the first song. This isn't the light and nimble Wilco that produced the playful "California Stars," "Casino Queen," or even "Impossible Germany." This music is more brooding, methodical and introspective.
The third track "One and a Half Stars" sounds like a tongue-in-cheek jab at music reviewers. Because this song marks a transition in the album, I'd give it at least two stars though. After this song, the album opens up and becomes more accessible.
Beginning with "Quiet Amplifier," the instrumentation becomes more involving and Tweedy's voice is more passionate. Nels Cline's avant-garde guitar work is finely featured at the end of the song, and I start to feel like we're in more familiar Wilco territory.
"Everyone Hides" is as close to a Wilco-style pop song as there is on the 42-minute long album. The song lifts the somber mood and contains more interesting guitar work by Cline. The lyrics and catchy beat inhabited my head during the first listen as Tweedy sings:
"Deep inside
Everyone hides
Oh, oh, some of the time..."
This is one of the best songs on the album and one of the few I can see being added into the band's long term live set list.
"White Wooden Cross" brings to mind some of John Lennon's solo work owing to Tweedy's vocal delivery and the production. There's a little calypso influence thrown in, too. The album builds and continues to include more of the excellent musicianship I expect to hear on the best Wilco albums. The somewhat mundane "Citizens" sets us up for the meat of this collection.
During "We Are Lucky" Cline's guitar starts howling, Glenn Kotche's drums and percussive touches come to life, and the rest of the band grow fully engaged, working together to embellish Tweedy's somber lyrics. Though Tweedy's vocal delivery is still halting, the band is in the forefront. The big picture comes into focus. This song builds to an early false climax and then delivers the real thing by the end. They aren't out to impress their fans; rather, they are doubling down on what got them to be one of the most interesting bands in recent history. This is what the fully mature Wilco sounds like in 2019, and it's good.
The appealing "Love Is Everywhere (Beware)" along with the next song "Hold Me Anyway" start with upbeat acoustic guitar work and Tweedy's more engaged vocals. The latter builds into a radio-friendly singalong tune complete with hand claps and displays Wilco as a tenured musical outfit right now. They are a fully established ensemble that can produce a deep, more introspective work. They aren't afraid to get a little sentimental sometimes, and "Hold Me Anyway" finally delivers the joy that is promised in the album title. This album should be a staple in any serious Wilco fan's collection.
The last song, "An Empty Corner" brings us back to the more deliberate and measured vocals and instrumentation that starts Ode To Joy. It completes the song cycle and leaves the listener with lots to think about. I found that it revealed more depth on repeated hearings and helped me respect the inspiration that spark it. The bass on this track gives my subwoofer a nice workout. Though not Wilco's most exciting work, I like this album, and it will be played often.
For those who don't go to record stores anymore or never have, I scanned the unopened package (front and back) to show what a brand new compact disc looks like. I haven't been swept up in the resurgence of vinyl, but I do still value having a tactile item in hand when listening to new music for the first time. Included in the packaging of Ode To Joy is a glossy printed booklet that contains the song lyrics and production credits. For what it's worth, the only local place I found that had the CD available on the release date was Independent Records & Video on Platte Avenue in Colorado Springs. I'm happy that places like Independent Records are still around for those of us who still value music and videos you can hold in your hands. They also sell new and used vinyl, CD's, DVD's and Blu-ray discs as well as posters, incense, and other typical head shop items. If you haven't been to a record store in a while, go check one out. If anything, you'll be exposed to what new music is out there and see where baby boomers used to go when we were teenagers.
Visit Wilco's official web page
Visit Independent Records official web site

Tedeschi Trucks Band with Blackberry Smoke and Shovels & Rope at Red Rocks Amp. on Friday, July 26...
Posted
July 27, 2019, and last updated July 27, 2019 by Chuck Miller
It was warm & overcast at 7 PM when the South Carolina-based duo Shovels & Rope kicked off the night with "I'm Comin' Out" from their latest album By Blood. The married couple played a pleasant 45-minute long set and was received well by the blues-loving crowd as they trickled into the venue.
Blackberry Smoke followed at around 8 PM and received a better response from the now much larger audience. The talkative crowd liked the Tom Petty cover "You Got Lucky." Lead singer and guitarist Charlie Starr has an impressive rock and roll voice that is well-suited to the southern rock/blues the band plays. I remembered "One Horse Town" from the last time I had seen them, and I enjoyed hearing it again.
Headliners Tedeschi Trucks Band walked onstage at 9:20 PM and got things going quickly with the title song from their 2019 album, Signs. It was a great choice to open the set as it is also the powerful first track on that album. The near capacity audience loved it.
Next was a cover of Elton John's "Border Song," which highlighted new TTB keyboard player Gabe Dixon's piano skills. Dixon also sang a duet with Susan Tedeschi later in the set on a cover of Willie Nelson's "Somebody Pick Up My Pieces." The death of TTB founding member Kofi Burbridge earlier this year left a huge hole that Dixon is filling quite nicely.
One musical highlight of the night was "Still Your Mind" from Signs, which showcased Derek Trucks' incredibly emotive electric guitar playing and quieted the chatty audience for a bit.
I've noticed lately that Red Rocks has moved where the general admission section of the venue starts. In the past, diligent (fast footed) fans were rewarded with the possibility of sitting in some of the front section seats of the venue if they arrived early enough. Now, the GA section starts farther up in the venue, around Row 11. This had the undesirable effect of moving those fans farther back and into row 16 where tapers set-up. Again in the past, the people who sat in the area behind the soundboard were less talkative, which is desireable for making good recordings. Last night, some of the people in the 17th and 18th rows were talking loudly while the bands were playing and not respecting those of us who came to the concert to hear the music.
One of TTB's best songs "Midnight In Harlem" was marred by inconsiderate fans talking loudly during the song. One young woman, in fact, started laughing during the quiet section in the song that features Derek Trucks' sweetest guitar playing. That was disappointing.
Other than that, it was a great night of music. I recorded all the bands and took some photos. My recording of TTB is up on the Live Music Archive. The links to that recording and the photos are located below. If there is any interest I can post the other recordings.

Tedeschi Trucks Band ~ 2019-07-26 Red Rocks Amphitheatre, Morrison, CO
Tedeschi Trucks Band - 2019-07-26
Visit Tedeschi Trucks official web site
Visit Blackberry Smoke official site
Visit Shovel & Rope's official site

Cracker and Camper Van Beethoven broke in the new venue Lulu's Downstairs in Manitou Springs with style...
Posted
July 18, 2019, and last updated July 19, 2019 by Chuck Miller
Lulu's Downstairs, located in Manitou Springs, opened recently and served up a fantastic night of live music from Cracker and Camper Van Beethoven on Wednesday, July 17. As one of the first shows and the first national act show hosted at the cozy club, it was a great start. We really need a venue like this in the Colorado Springs area. I estimate the capacity is right around 400 in the stage area, which makes it a nice size for groups like Cracker and CVB. It sounded crisp and clean in there, and the audience was actually focused on the music instead of socializing.
Camper took the stage right at 8:30 PM and delivered an oftentimes hard-hitting 60-minute set that started with "ZZ Top Goes To Egypt" and "Pictures Of Matchstick Men" and ended with "Opi Rides Again - Club Med Sucks" and "Northern California Girls." During the performance, Cracker and Camper Van Beethoven founder David Lowery led the band through a 13-song mix of new and old songs and told a great story before launching into "Too High For the Love-In." He had the attentive, near capacity crowd enthralled at times. The band even played "Surprise Truck" from their eponymuos 1986 album. I'd never heard them play that song live, so it was an unexpected "surprise."
The second set started with Lowery playing solo, singing "Plaza De Toros, 1967" from his latest solo album In the Shadow Of the Bull. Upon my first hearing, I enjoyed the very personal feel and the storytelling nature of the song. The song and album are the first installment of Lowery's musical autobiography according to the album liner notes. Then the full 5-piece Cracker came out and opened with a cover of the Jerry Garcia staple "Loser."
During the show, I felt like the Cracker set was better than CVB's, but after listening to the recording, I'll give the nod to Camper, based on how tightly they played. When they do a double bill like this, it's always a toss-up for me deciding which band played better. This time it was really close. The highlight of the Camper set for me was "S.P. 37957 Medley." It's a brilliant instrumental mixture of the traditional "Hava Nagila" with Led Zeppelin song snippets and a fake-out ending.
The strength of Cracker's set was the song selection. They played several songs I hadn't heard them play before including "Beautiful," a cover of The Flamin' Groovies "Shake Some Action" and the Johnny Hickman song "Hold Of Myself." Interestingly, Hickman sang more songs in this set than I usually hear.
LuLu's Downstairs at 107 Manitou Avenue has a fun and comfortable atmosphere inside. Red upholstered wrap around corner seating gives it a familiar retro vibe. There's lots of free parking around it, too, which is an important bonus in Manitou where parking can sometimes be difficult. The men's bathroom was nicely finished with lots of tile and it was clean! The staff I interacted with were excellent as well. One of them gave me a recomendation for dinner. I ordered the homemade tomato soup and artisan style grilled cheese sandwich and I found them both to be excellent. Front of house sound engineer Tim (Timbo) Illian gave us a clean mix with a comfortable volume level throughout the show. The venue owners did a great job with the sound treatment too, as it doesn't have that annoying boxy sound some venues with lower ceilings often have. Great job, Lulu's Downstairs! Now we have an exciting new mid-sized live music venue in town. I hope to see many live shows there in the future.
I recorded both sets and took some photos. I've uploaded the recordings to the Live Music Archive where you can listen to and download the complete shows or just listen to individual songs. The links to the recordings and photos are below.

Cracker ~ 2019-07-17 Lulu's Downstairs, Manitou Springs, CO

Camper Van Beethoven ~ 2019-07-17 Lulu's Downstairs, Manitou Springs, CO
Camper Van Beethoven - 2019-07-17
Visit Cracker's official web site
Visit Camper Van Beethoven's official site
Visit Lulu's Downstairs official site

The Davenport Band's annual show at Hillside Gardens Event Center in Colorado Springs on June 19...
Posted
July 2, 2019, and last updated June 2, 2019 by Chuck Miller
The scenic Hillside Gardens Event Center in Colorado Springs, CO hosts local bands on Wednesday nights in the summer. On June 19 The Davenport Band played their annual set. The band started around 6 PM and played a three-long set of soft rock cover songs.
The weather was nice and the music fans danced and socialized as the band played songs by Neil Young, Van Morrison, Tom Petty, the Grateful Dead, along with a good mix of singer/songwriter country and acoustic rock standards.
The link below has photos I took at the event.
The Davenport Band - 2019-06-19
Visit The Davenport Band's Facebook page
Visit the Hillside Garden's Event Center official web site

Big Head Todd & the Monsters, Toad the Wet Sprocket, and Colin Hay deliver at Red Rocks on Sat., June 8...
Posted J
une 10, 2019, and last updated June 11, 2019 by Chuck Miller
It was a beautiful, warm Saturday afternoon on June 8th at Red Rocks Amphitheatre in Morrison, CO, for the triple billing of Big Head Todd & the Monsters, Toad the Wet Sprocket, and Colin Hay. Hay, the former lead singer for the 1980's radio sensations Men At Work played solo and was amiable as the audience slowly filled the venue. Starting right at 6:30 PM, Hay mixed in jokes and some stories as he regaled us with 45 minutes of his music. The performance included some of his solo songs and the Men At Work hits "Who Can It Be Now?" and "Down Under," which had the sparse but attentive audience singing along. It occurred to me how subdued he was compared to the days when he filled venues promoting the multi-million selling Men At Work album Business As Usual. He did recieve a deserved warm round of applause as he walked away from the microphone before roadies readied the stage for Toad the Wet Sprocket.
Toad along with multi-instrumentalist, touring companion Jonathan Kingham walked on stage right around 7:30 PM, opening with "The Moment" from their 2013 album New Constellation. The venue was still filling at that time, but the band recieved a generous reaction from the fans who were present and appreciative as
the band played. Several of the people I spoke with throughout the evening were there primarily to see TTWS's set.
"Paul is making me nervous - Paul is making me scared - Walk into this room and swaggers like he's God's own messenger - Changed the name of my brother - Changed the things he said - Says he speaks to him - But he never knew the man - But I'd give my life for him" -- the opening lyric from "Fly From Heaven" on 1994's Dulcinea was great to hear. The song's lyrics depict a conflicted James's perspective on how Apostle Paul was misrepresenting his brother Jesus' and teachings to early Christians -- not subject matter typically heard from a pop rock band. But, smart and thought- provoking lyrics are one of the reasons I love Santa Barbara, CA-based Toad the Wet Sprocket. The way the group augments the lyrics with their concise, pleasantly jangly pop style is another. So, the fourth song of the set provided the first highlight for me from the quintet.
It drizzled briefly as the mercury dropped into "put the jacket on" temperatures while the band performed a fifteen-song set which included the hits "All I Want," "Good Intentions," "Brother," and "Crazy Life." They closed their 70-minute long performance with "Walk On the Ocean," which is often the last song performed during their live shows. That song highlights all the band's strengths, vocal harmony, clever lyrics, and excellent musicianship. I thought this was a very good Toad the Wet Sprocket show. The people who sat next to me expressed the same sentiment.
I do want to mention the absence of founding member, drummer Randy Guss. Guss was missing the last time I saw the band in Arvada, CO, last year, too. His absence wasn't addressed by the band at either show. Guss is afflicted with the degenerative bone disease osteogenesis. Complications have prevented him from joining the band on the road lately. Nashville-based drummer Josh Daubin has been filling Guss' seat recently. Daubin is a great drummer, but I hope to see Guss behind the kit again sometime soon.
It was getting cold out as the Boulder-based quartet Big Head Todd & the Monsters walked on stage around 9:15 PM. I was glad I had worn long pants and had brought a rain jacket.
BHTM are top notch performers. Lead singer and guitarist Todd Park Mohr engages constantly with the audience and keeps the show moving at a quick pace. They played a single one-hour and forty-minute long set which included a lot of their hits along with a good selection of newer songs.
Interestingly, they started their portion of the show with a cover of Elton John's "Saturday Night's Alright For Fighting" and ended the night with another cover, Deep Purple's "Smoke On the Water." In between, they performed "Broken Hearted Savior;" the huge crowd favorite "Vincent of Jersey;" some of my personal favorites, "Circle," "Strategem," and "Bittersweet;" along with many others. Long time BHTM vocal collaborator Hazel Miller sang beautifully on "Beautiful World" and "Rock Steady" during the set and came back to the stage for the encore, too. She stole the show several times with her powerhouse soul wailing.
It was a spectacular night of music. The event sold out days before the show, and it looked to me like the majority of the fans stayed through most of BHTM's set. I think it's safe to say, we all left into the cool Colorado night with our heads full of great musical memories.
I recorded all the bands, but the recordings are marred in places by the strong wind that blew periodically through the amphitheatre during the night. The TTWS recording also contains a glitch, and I was only able to record the first 20 minutes of Big Head Todd & the Monsters' set. So, only my Toad the Wet Sprocket recording has been uploaded to the Live Music Archive. You will hear wind noise and that brief issue between "Something's Always Wrong" and "Walk On the Ocean" on that recording. I decided to minimize the effect of the glitch and leave it in there to preserve the complete performance. I doubt I'll release the other two recordings.
I also took more pictures than usual because the recording situation wasn't optimal, and I chose to focus on documenting the event visually. The link to the TTWS recording and links to the photos are available below this review.

Toad the Wet Sprocket ~ 2019-06-08 Red Rocks Amphitheatre, Morrison, CO
Big Head Todd & the Monsters - 2019-06-08
Toad the Wet Sprocket - 2019-06-08
Visit Big Head Todd & the Monster's official web site
Visit Toad the Wet Sprocket's official web site
Visit Colin Hay's offical web site


A bubbly perfomance from moe. and supporting acts at Red Rocks Amphitheatre in Morrison, CO on June 1...
Posted J
une 2, 2019, and last updated June 2, 2019 by Chuck Miller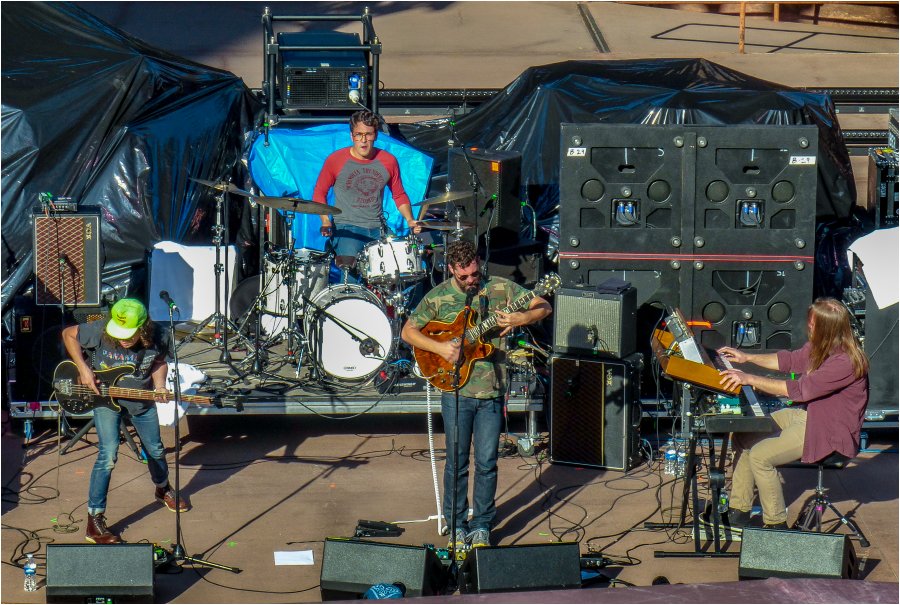 The beautiful spring night in Morrison, CO, started with a powerful set starting at 6 PM by White Denim from Austin, Texas. The quartet performed approximately 45 minutes of jamming progressive music that was appreciated by the fans who were slowing filling up the roughly 9,500-seat venue. I'd never heard them perform before, and I liked them.
Though rain was forecast, thankfully not a drop fell during the 6-hour long night of music. The weather coudn't have been better. I only needed a long sleeve shirt as the temperature dipped after 10 PM.
Next up was Mike Gordon and his band. Of course, Mike is best known as the bassist for Phish. I have to say that his was the least impressive set of the night for me. His band has great players, and many in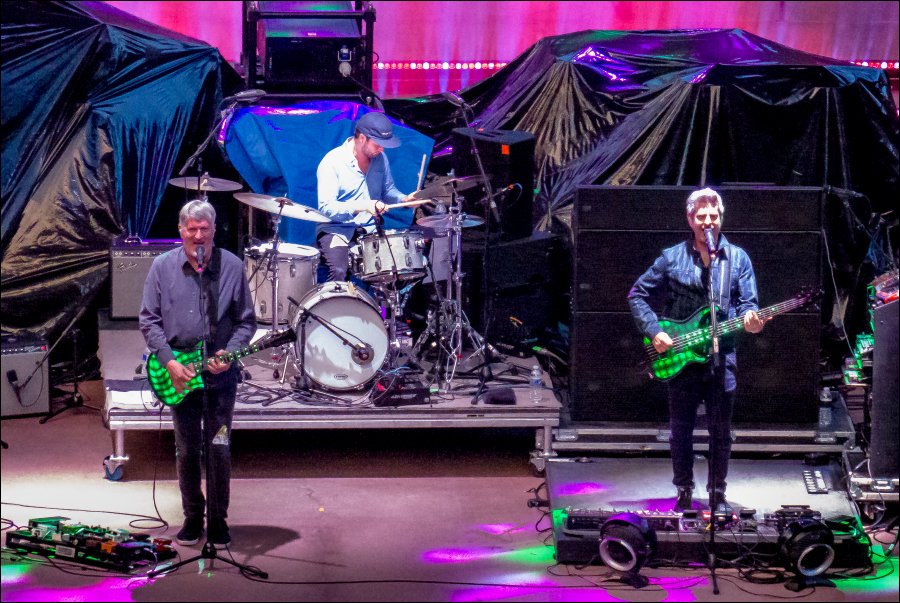 the audience loved it. His music may be an acquired taste as moe. was for me initially. I'll listen back to the recording I made and see if I can acquire that taste. I will say that I really appreciated Scott Murawski's guitar playing and singing, though. His input, along with drummer John Kimmock, was the most enjoyable part of that set for me.
The headliners took the stage at 8:55 PM. I'd estimate the venue was more than three quarters full by the time moe. started. They opened the first set with "Timmy Tucker," which caught me a bit off guard. They played it well, but the sound wasn't quite dialed in, leaving me a bit underwelmed. From "Timmy Tucker" they segued into "Tubing the River Styx" and "The Pit," which kicked off the night properly for me. A couple of new songs "Dangerous Game" and "Jazz Cigarette" were next. The latter, featured percussionist Jim Loughlin, who has become a real force in the band. His xylophone and Mallet Cat playing have become highlights during moe. shows.
One of my favorite moe. songs, "Water," came next. It was a great rendition, which was humorously augmented by thousands of bubbles that started blowing out of the soundboard area as soon as the song started. The crowd reacted enthusiastically as the bubbles floated and eventually came to rest on the raptured audience. I was close enough that some of the bubbles landed on me and my gear. It felt very inclusive.
After "Water," bassist Rob Durhak informed us that Mike Gordon was going to join the band for the next song. What followed was one of my favorite moe. sit-ins ever. After some tuning, the band, with Mike Gordon joining on electric bass, launched into a cover of the Allman Brothers Band's majestic instrumental "In Memory Of Elizabeth Reed." This song was always so powerful when performed by the Allman Brothers Band. But moe. and Gordon were up to the challenge and covered the song expertly. Each individual member of the ensemble had an opportunity to solo over the course of the 20-minute reading of the song. It was easily the highlight of the long night of intense jam band music. That song also appropriately ended the first set. Wisely, the group knew nothing could immediately follow that.
The band, riding high after the incredible set one closing jam, started the second set around 10:45 PM with "The Road" from their 2007 album The Conch. Next, a new Chuck Garvey song "New Hope For the New Year" sounded great and had some interesting jams. Guitarist Garvey also sang the old fan favorite "Bullet" next. Another new song "Crushing" was sung by Al Schnier which morphed into his politically inspired "George," which was somewhat timely and appreciated. The second set ended with a relatively quick reading of Derhak's "Rebubula" reprising the bubbles billowing from the soundboard area. Percussionist Loughlin had an unexpected, lilting solo halfway through the song that was pretty neat.
The band was called back for an encore and quickly started a cover of The Vapor's "Turning Japanese." Unfortunately, the band ran up against the Red Rocks hard stop at midnight, and the power to the PA was cut before the band could finish the song sung by multi-instrumentalist Loughlin. I'd never seen this hard curfew enforced at Red Rocks. It was somewhat disconcerting, as the band couldn't finish the song which wasn't very long. It left me and the rest of the fans disappointed.
I recorded all the bands, but don't currently have the time to process and upload White Denim and Mike Gordon's sets. Links to the moe. recording and photos I took are offered below.

moe. ~ 2019-06-01 Red Rocks Amphitheatre, Morrison, CO
Visit moe.'s official web site
Visit Mike Gordon's official web site
Visit White Denim's offical web site


Ferrari Films presents Unshaken: The Road to Woo at Stargazer's Theatre in CO Springs on Friday, May 17...
Posted
May 18, 2019, and last updated May 18, 2019 by Chuck Miller
Last night, Stargazer's Theatre in Colorado Springs hosted the premiere of Ferrari Films Unshaken: The Road to Woo. The 45-minute documentary named after one of Woo's songs, focuses on Woo's music career. The five-piece Wendy Woo Band played after the film was shown.
The audience of Wendy Woo fans and family sometimes cheered during the showing as Woo and the individual band members' images appeared on the big screen and told the story of how they all met and formed the Wendy Woo Band. The documentary-style movie was illuminating for old and new fans of Woo and her band.
After a twenty-minute intermission and brief introduction by venue owner John Hooten, the band came out and Woo addressed the audience: "I feel like you know all my secrets now." She then thanked the audience for attending and launched into "In the Middle," a song written by band member, multi-instrumentalist Mitch DeZwarte.
Woo continued that theme and chose to perform several songs written by or co-written with every member of the band during the almost 80-minute set. They played "Hey Bartender" co-written with her husband Charles Snyder, "Saving Grace," written by Robin Hoch who sings, plays viola & acoustic guitar, "Today," written by bassist Steve Cox, and "Knowledge" and "Out Of My Head Over You" co-written with drummer Chris Maestas. Other highlights included a cover of Fleetwood Mac's "Landslide," which also appears on Woo's latest solo album The Immigrant and the final songs of the night, "Late Night Sunrise" and "Surprise Me."
It was an engaging event, and Woo and the band glowed with exuberance during the whole performance.
I made a recording and have uploaded just two songs this time. I chose the Steve Cox-composed song "Today" and the band's cover of Marvin Gaye's mega hit "What's Going On." I think both songs highlight the talents of all the band members. You can hear those songs and see some photos I took at the event by following the links below.

Wendy Woo Band ~ 2019-05-17 Stargazer's Theatre, Colorado Springs, CO
Visit Wendy Woo's official web site: WendyWoo.com
Wendy Woo on Facebook: The Wendy Woo Band


Wendy Woo brought her The Immigrant album release tour to The Gold Room in CO Springs on April 13...
Posted
April 14, 2019 and last updated April 16, 2019 by: Chuck Miller
Loveland, Colorado based singer-songwriter Wendy Woo released her latest solo album The Immigrant recently and held an album release party at The Gold Room in downtown Colorado Springs on April 13. The event featured Woo solo, singing accompanied with acoustic guitar and occasionally electric piano. There was no opening act. She played all of her new songs, some of her older fan favorites, and a few covers. She also provided some context for many of the songs and engaged with the audience frequently between songs.
The two-set show started a little after 8 PM with Woo playing the new album's title song "The Immigrant" followed by the second album song 'Dust Off the Piano." Then Woo moved to piano for "Vic's Coffee" the fourth album song which she said was about going to high school prom in Boulder. The new songs and the whole show was received well by the intimate audience of loyal Woo fans.
Hearing the songs played live before listening to the CD was instructive. I usually think hearing an artist play live is better than listening to their studio albums. I can tell a lot about an artist by observing how they play to a live audience, especially with new material, which fans have not heard yet. Woo handled this impeccably at this show I think partly because the new material is so good.
For me, the songs sounded great live without the various guests artists and additional instrumentation used on the studio release. Playing live, Woo draws you in while exposing herself in a way that keeps you involved and attentive. That was the case at The Gold Room on Saturday night.
She even came out between sets to sign CDs and chat with her fans.
After the show, I listened to the album. The album is gorgeous, well played and expertly produced. I love the new material and the decision to use understated instrumentation, and the production choice of utilizing select guest musicians on some songs was spot on. I can see many of these songs making their way into rotation with the full band in the future. Standout album tracks are "Dust Off the Piano," "Plane To China," "The Weather," and "This Little Town," which was co-written with her husband Charles Snyder.
She included Stevie Nicks' iconic "Landslide" on the album. We've all heard covers of this song throughout the years. Woo really made it her own here. It felt perfect in the context of an autobiographical album like this. There really isn't a dull moment on The Immigrant. I'd recommend it to anyone who likes strong singer-songwriter music with thoughtful lyrics and great instrumental back-up. This one will be in heavy rotation on my music player for a while.
I made a recording and took some photos which can be accessed by following the links below.

Wendy Woo (solo) ~ 2019-04-13 The Gold Room, Colorado Springs, CO
Visit Wendy Woo's official web site: WendyWoo.com
Wendy Woo on Facebook: The Wendy Woo Band


Tedeschi Trucks Band's latest release Signs is a beautifully deep recording and their best album to date...
Posted
March
22

, 2019 and last updated March 22, 2019 by: Chuck Miller
Tedeschi Trucks Band's fourth album Signs is easily the best album they have produced together and the best new album I've heard so far this year. Signs sounds warm, inviting, intimate, and organic perhaps owing to the decision to record it live at the married couple's Jacksonville, FL, home studio. You can feel the collaborative band presence on every gorgeous track.
The band endured heartbreaking loss while making this record. Derek Trucks' uncle, Butch Trucks, a founding member of the Allman Brothers Band committed suicide and Tedeschi/Trucks' mentor, musician Col. Bruce Hampton (Ret.), whom the album is dedicated to also passed away while they were busy recording Signs. Those losses are felt often throughout the music presented here. Then tragically, the band's gifted keyboardist and flute player Kofi Burbridge died on February 15, the very day the album was released to the public. Nevertheless, I don't hear Signs as a requiem. There is joy to be heard in these blues.
Derek Truck's singular electric guitar riffs get the recording started with "Signs, High Times." Soon after, the band joins and band leader Susan Tedeschi belts out, "Here I am - I did it to myself - But I still don't know what I'm here for," vocalist Mike Mattison adds, "Floating on my back - Hoping I end up dry" with Tedeschi continuing, "I got it right - Oh, to put you in my sights - But I don't have the fight to rage on - Something tells me," and back-up singer Mike Rivers testifies, "That maybe you're the one worth saving." The spiritually joyous opener gets things cooking quickly. I knew I was going to love this album less than one minute into my first hearing.
The somewhat funky (in a good, 1970's sort of way) "I'm Gonna Be There" continues the musical goodness with Tedeschi and back-up singers delivering heartfelt vocals while Trucks wails on electric guitar in sympathy with them. The musical effect is reminiscent of Eric Clapton and Duane Allman's playing on the Layla (and other assorted Love Songs) album. "When Will I Begin" returns us to the band's soulful blues with lyrics that allude to the album's cover art and set the tone for the rest of the 46-minute long blues/soul tome.
"Walk Through This Life" references 1940's era jazz, which is easy on my rock and roll ears, immediately followed by "Strengthen What Remains," which is more contemplative and features a bit of orchestration and a spattering of Kofi Burbridge's ethereal flute playing. I enjoy the song's simplicity, which comes from minimal instrumentation and Tedeschi's understated vocals.
Burbridge's solo piano twinkling begins and finishes "Still Your Mind," which conjures "Layla" again for me. It's my favorite track on the album. It contains everything I want in a Tedeschi Trucks Band song: Truck's wailing guitar, Tedeschi's soothing vocals, and the expert backing of their 12-piece band.
"Hard Case" is the most pop-oriented song on the 11-track album. I imagine this will be an excellent concert tune for the group. The whole band is actively participating, and I can see audience members getting out of their seats to dance to this one.
The eighth song, "Shame," starts out frenzied, reminiscent of the Allman Brothers Band hit "Whipping Post" and moves between mellow and energetic a few times before ending on a tranquil choral note. "Shame" will demonstrate to a live audience how dynamically Tedeschi Trucks Band can play.
I've been listening to some of Bonnie Raitt's albums recently, and "All The World" reminds me of some of her songs. It's natural to draw similarities between Tedeschi and Raitt. Both are accomplished musicians, and both women sing the blues. Occasionally on the earlier TTB albums, I found Tedeschi's voice a tad bit too edgy, which is something I never hear when listening to Raitt's voice on her recordings. But, generally, I prefer Tedeschi's guitar playing over Raitt's because it sounds sweeter to me. Nonetheless, on this album Tedeschi's voice sounds great.
"They Don't Shine" sounds like unneeded filler to me on this album. It's not bad, so it doesn't bring the album down. But, it just doesn't match the highest level of the other songs or present anything interesting musically for me.
The greatest albums, and Signs is certainly a great album, end on a high note and that's true here, with the the last song, "The Ending." It's presented with only Tedeschi softly singing and playing acoustic guitar with gentle, occasional guitar accompaniment by her husband Derek. Distilling the grand power of a 12-piece band down to its two principles is enthralling. This aptly titled finale accomplishes that. I revel in the nuance of Tedeschi's plaintively wailing the lyrics which end the album: "His guitar is laughing and filling the room - Everybody's smiling while he's singing his blues - It's hard to understand but I think he understood - Yes, he knew - Yes, he knew, oh, he knew - The ending."


The Beat goes pre-Valentine's with Stompin' George Eldon and his band at the Gold Room in CO Springs...
Posted
February 16

, 2019 and last updated February 16, 2019 by: Chuck Miller
KCOS Digital Media brought Stompin' George Eldon and his four-piece band to The Gold Room in Colorado Springs on February 13 for The Beat Goes On global internet radio show. Hosts Mark White and Lisa Carns interviewed Eldon and the band and entertained the intimate but lively group of music fans between songs.
The show started at 7 PM with the band playing their originals "The Stars Have Amnesia," "Barefoot (Ol' Time Happy)," and "Rainbow Song."
The sound in the venue was great. The band played well, though I felt like the radio show format sometimes slowed their momentum. But, of course the hosts made it fun, and it was great to hear Eldon interviewed in depth about his songs and tell some interesting stories. I left feeling like I knew Eldon and his music much better than I had before.
Early highlights included hearing the new instrumental "The Cabana Song" and the confessional host chat after the song "Naked in the Graveyard." Of course, Chrys Bocast did her best to feed the hungry crowd during "Saltine Cracker."

There was also a Valentine's Day themed haunted house giveaway by My Bloody Valentine. That got host Lisa Carns out into the audience asking couples how long they'd been together. One lucky couple won free admission to the HellScream Haunted House on North Hancock Ave. After that, the band launched into the audience participation song, one of my favorites, "Johnny Depp." "Stoned Brown Girl" was also performed impeccably later in the set.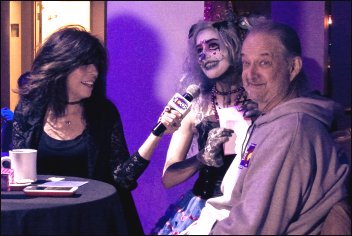 I've wanted to record Eldon since I first saw the band play at Mother Muff's in Old Colorado City last year. Hearing them play all originals for the whole night was a rare treat. The event ended at 9 PM with a strange and inspired pairing of the chorus of Buck Owen's classic "PFFT You Were Gone" with the original "Talk Some More Shit" which left the crowd wanting more. That certainly ended the set on a high note.
The two hour long professionally produced video show was
broadcast live and is archived on YouTube and on the KCOS Digital Media web site if you'd like to check it out. I enjoyed watching it and think it will be worth your effort to see if you're interested in the band.
Links to my audio recording and some photos I took during the event are below.

Stompin' George Eldon ~ 2019-02-13 The Gold Room, Colorado Springs, CO
Stompin' George Eldon - 2019-02-13



Colorado Springs tribute to Bob Dylan at Stargazer's Theatre & Event Center on Friday, January 18...
Posted

January 19

, 2019 and last updated February 2, 2019 by: Chuck Miller
Stargazer's Theatre & Events Center hosted the Colorado Springs tribute to Bob Dylan on Friday, January 18. The music started a little after 7 PM with Lindsay & Jeremy Facknitz who kicked the night off with a transcendent rendition of "Boots Of Spanish Leather." This was my first time seeing this talented duo, and they were easily my favorite act of the night. Lindsay's voice is clear, bright, and chill-inducing at times. Jeremy's guitar accompaniment was spot on and set the standard for the rest of the performers. On this song Lindsey reminded me of Natalie Maines, the lead singer for the Dixie Chicks.
Other first set highlights were Mike Judge's rendition of "I Shall Be Released" and Craig Walter's powerful takes on "Queen Jane Approximately" and "It's All Over Now, Baby Blue."
I was there primarily to see Chuck Snow's performance. I planned on splitting after his portion of the show, but I enjoyed the other bands so much, I stayed for the rest of the night. Unfortunately, each group only played four songs. As a consequence, they were all turning over
the stage at about the time they started getting warmed up. Fittingly, I thoroughly enjoyed Snow and his four-piece band's rendition of "You Ain't Goin' Nowhere," which ended the first set with the crowd wanting more.
Chris and Deb Mitguard got the second set started right with "I Am A Lonesome Hobo" from John Wesley Harding. Jason Miller's renditions of "Shelter From the Storm," "The Man In Me," and "You're Gonna Make Me Lonesome When You Go" were appreciated by me and the eager Bob Dylan fans. Miller only played three songs, but they were some of my favorites of the second set.
One of Dylan's most popular tunes "Blowin' In the Wind" was performed impeccably by K. J. Braithwaite, who also offered up the crowd favorite "Mr. Tambourine Man." Braithwaite's focus and command of the material was impressive. He was aptly rewarded with some of the most enthusiastic audience response of the night.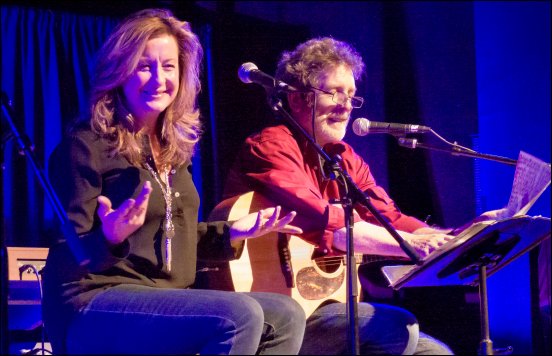 Stargazer's Theatre owners John and Cindy Hooton finished the individual live band performances with stirring readings of "All I Really Want To Do," "Shooting Star" and two others. I'd never seen them perform together. I thought they were very good. John Hooton's finger-picking guitar licks held up well against some of the more seasoned musician's work. A video taped rendition of "Chimes Of Freedom" by Anglum, Mock & Greene who couldn't make it to the live show played on the screen above the stage as the night's performers gathered together for the all-star last song of the night. A very disjointed but still fun version of "Like A Rolling Stone" capped the tribute at around 10:45 and sent the joyous Dylan fans out into the cold Colorado night.
I recorded the whole event, but I currently only have permission from Chuck Snow and John and Cindy Hooton to share their performances. That recording and some photos I took of each group can be accessed by following the links below.

John & Cindy Hooton ~ 2019-01-18 Stargazer's Theatre, Colorado Springs, CO

Chuck Snow ~ 2019-01-18 Stargazer's Theatre, Colorado Springs, CO
John & Cindy Hooton - 2019-01-18

K. J. Braithwaite - 2019-01-18

Jason Miller - 2019-01-18

The Mitguards - 2019-01-18

Chuck Snow - 2019-01-18

Craig Walter - 2019-01-18

Mike Judge - 2019-01-18

Lindsay & Jeremy Facknitz - 2019-01-18


Reflecting on why I like to make live music recordings and looking forward to doing more of that in 2019...
Posted and updated by: Chuck Miller
January 1

, 2019
I usually like to bring in the New Year while listening to live music. I can't actually remember the last New Year's Eve that I wasn't at a show or watching a pay-per-view event at home on the couch. I just didn't feel the need to get another live show in before 2018 ended. As luck would have it though, just before I went to bed last night I saw a Late Show with Steven Colbert re-run that featured Jeff Tweedy from Wilco singing "Let's Go Rain" from his new solo album WARM. That was a pleasant surprise and fitting end to 2018.
Looking back, I had a satisfying year, musically. I heard and recorded some new bands and attended concerts performed by old favorites. The older I get, the more I appreciate live music. The quality of live sound now plays a large role in that for me. PA systems, even in small clubs, sound much better than they did when I was young. I heard plenty of poorly mixed performances when I first started going to concerts. That was a turn-off. Now, I expect to be able to hear the words the singers are singing and also hear all the instruments clearly. These days, even small bands doing their own sound from the stage can achieve that. Stompin' George Eldon's band does that every time I see them. That's part of what makes a band worth recording -- good sound! When I started to hear really good sound at concerts, especially from the Grateful Dead in the 1980's, that's when I got interested in making recordings. That's what led me here.
When I buy a concert ticket or pay a cover charge to see a band play these days, I expect to hear high quality sound. That was the case with my last concert in 2018, which was the December 29 Cracker and Camper Van Beethoven double bill at the Soiled Dove Underground in Denver. I've seen both bands many times. I love their music. Both bands played very well, of course. But they also sounded great! It was easy to make a quality recording. You can read my review and listen to the recordings I made by following the link here if you're interested.
I'm looking forward to 2019. So far, I have tickets and plan to see moe., Big Head Todd and the Monsters, and Toad the Wet Sprocket at Red Rocks Amphitheatre. I'd love to see Wilco this year. I haven't made a personally satisfactory recording of them yet. Hopefully they'll play somewhere in Colorado, and I'll get the opportunity. Closer to home, there is a Bob Dylan tribute this month featuring among others, some friends of mine at Stargazer's Theatre and Event Center. Woodshed Red, a band I recently discovered and really like, is playing at that same venue in February. I'll record that performance. I want to record Stompin' George Eldon's band soon, too. They are so unique. I want to expose them to more people.
I also want to record some more diverse music in 2019. I see a lot of jam bands, mainly because they tend to be more open to being recorded. Contact me by email here if you know of a great local band I haven't covered yet. After all, that's part of my mission: to highlight and expose people to good live local music.
Well, those are some of my wishes for the coming year. I'm excited after learning about some of the events that have been announced already. If 2019 is anything like 2018 was, I'll be happy and busy making recordings and sharing them here with you. Cheers.


All blog entries... | 2023 | 2022 | 2021 | 2020 | 2019 | 2018 | 2017 | 2016 | 2015 | 2014 | 2013 | 2012 |
© time between the notes... 2012-2023 All rights reserved.