Home | 2020 blog entries
I'm Chuck Miller. Welcome to my live music recording information site and blog. Recording live music performances is my passion. Here you will find links to live music recordings and information about recording live music. You'll also find some DIY projects, reviews of concerts and albums, as well as concert posters, tickets, art and photographs and links to some of the recordings I've made of bands over the years.
Many of the recordings I make are with just a stereo pair of microphones located in the audience section of the venue. Occasionally, I'll arrange to get a soundboard feed to mix in with the microphones to make a blended (matrix) recording. This technique takes advantage of mixing a time adjusted, usually dry PA feed with stereo microphones that capture the PA and the audience at the same time. Those are some of my favorite recordings. If all the elements cooperate the results can be very nice.
I don't record bands covertly. Every recording I share here was made with the permission of the band and is available for free download and streaming. I follow the concert tapers code of conduct which means the bands allow me to record their live performances as long as I don't profit from it and I share the recordings freely. If you have questions or concerns please contact me. My info is on the Contact page.


Chuck Snow's eponymous new musical offering is a really good listen and it's available now on his website...
Posted originally December 3, 2020, and last updated December 3, 2020 by Chuck Miller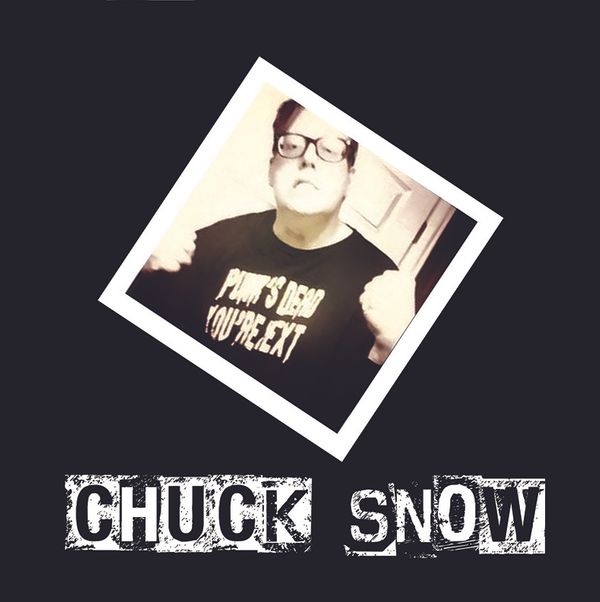 Colorado Springs native, singer\songwriter & guitar slinger Chuck Snow has released a new collection of mostly original songs simply titled Chuck Snow.
I first became aware of Snow when he fronted the band The Autono. That band released three CD's from 1990 to 1995 and was very popular along the front range of Colorado.
Since then, Snow has put together or been a member of a few more bands, including The Texas 7, The Lo-Fi Cowboys, The Fremont Street Preachers and most recently the G-Men.
The new CD has a good mix of the genres he's tackled in the past. It has maturity and depth to it that matches his 58 trips around the sun. Not surprisingly the vocals and tasteful guitar playing are very good, but he actually played all the instruments on this project. After my first listen I took a look at the CD package to see if I could find credits for all the musicians I thought I heard.
The CD was released on November 16 of this year, and has six songs with a remix version of one of those songs available on his website.
"Smoke Em" starts the disc off with urgency. I hear a little late 70's early '80's new wave vibe in there. It reminds me of what The Tubes and The Cars were doing around that time.
I'm a David Lynch movie fan and as soon as I heard "Curtis" it reminded me of Lynch's "Wild At Heart" and "Blue Velvet" with that moody, vibrato drenched, warped guitar sound Chris Isaak perfected on those movie soundtracks. It's a great song too.
The autobiographical "Old Boy" is one of the more poppy songs I've heard from Snow. But, then it gets a bit jazzy as it unfolds too. Dare I call it sophisticated and poignant? Well, whatever it is, I like it. "Old Boy" is one of the highlights on this compilation. It sounds authentic and true to what I've heard previously from Mr. Snow and contemporary to me.
I moved to Colorado Springs in the early '80s, which is the same time Snow started performing music. I've made the same observation about the city that's expressed in the track "Too Many Rats." When I asked Snow for some autobiographic information in preparing to write this review I asked him, "...anything else noteworthy to say about the new music?" He fittingly replied, "It's a dark record clearly influenced by all the nonsense we have occurring in these dystopian times. Lol." That serious underlying message brushed off with a laugh oozes from this CD and this song specifically. To help drive the point in a little deeper he presents another version of the song called "Too Many Rats Skalicious Ultra Mix" on this website. That remix turns this dystopian view upside down with the light ska riffs and is synonymous with the "Lol" he added at the end of his description of the music packaged here. Those two takes on the same tune are the essence of this clever collection of songs.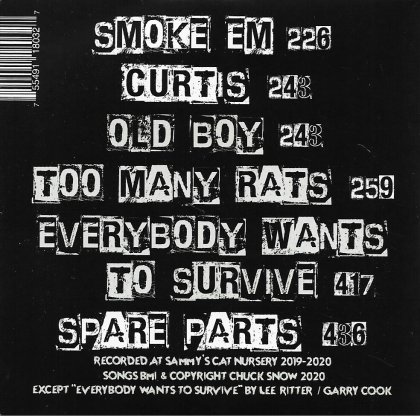 The cover song "Everybody Wants To Survive" by the Infliktors" fit's neatly in with the originals on Chuck Snow. I sought out the original version which starts out sparse and desolate and evolves into a bit of a punk anthem. Snow's cover sounds much more optimistic to me than than the Infliktors take and gives needed relief from the weighty lyrics. A fitting cover for this collection.
The CD ends with what may be the best song, "Spare Parts." This familiar sounding, country tinged ballad feels honestly heartfelt. You can hear the truth in his stark delivery of the lyrics. There's even a little hook in there that you'll remember even after first hearing it.
Because of the depth of these songs I'll have this record in my high rotation playlist for a while. There are no filler songs on this release. Snow told me he had a couple other songs he considered including but didn't. I like it just the way it is. I think you will too.
If you'd like to download or buy the CD and learn more about Chuck Snow, check out the link to his official website below. If you buy the digital download you will receive bonus tracks, "Too Many Rats
Skalicious Mix" & "Drifting" which are available now with "The Theme From Waxman" being released next week.
Update to: A homemade effects pedal board made from a large Home Depot wooden crate...
Posted originally September 29, 2020, and last updated September 29, 2020 by Chuck Miller
I ended up making a second (smaller) effect pedals board from the scraps left over from the first board I made. Updated to show a couple of photos.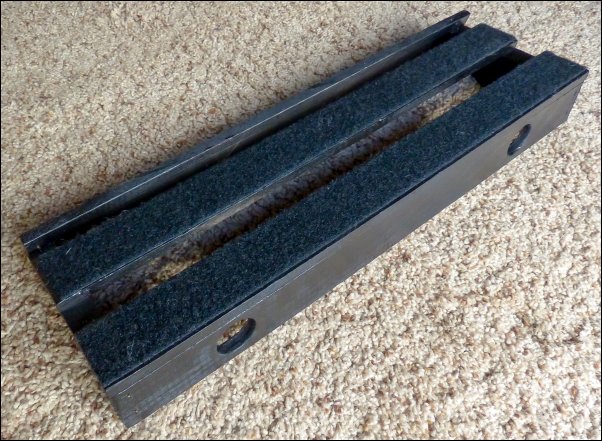 My last guitar effects pedal review for now: The Kmise KM-02 (Black) Ultimate Drive Distortion...
Posted September 23, 2020, and last updated September 23, 2020 by Chuck Miller
This will be my last Kmise guitar pedal review for a while. I'll also wrap up this blog entry and my short tenure as a Kmise pedal reviewer with my final thoughts about the guitar effects boxes I've reviewed for them. This has been a great opportunity for me to test various effects, and I'm much more knowledgeable about guitar pedals because of it. I'd like to thank Kmise for giving me the opportunity and trust that I'd do reliable and honest reviews of their products. It has been pleasantly instructive for me to be given the opportunity to audition several different pedals in such a short time. I still have plenty to learn, so maybe I'll get back to reviewing again at a later time.
Kmise, which sells their products though lotmusic Store on Amazon and other places, was kind enough to provide this KM-02 Distortion pedal to me without charge and has asked me to write an honest review of the product. Recently, they've asked me if I could do video reviews, but I'm just not up to doing that. It's much too time consuming for me now, and I'd rather have the time to play guitar instead of spending time making and editing videos.
About the product at hand -- The KM-02 Ultimate Drive Distortion effect. Generally, I'm not a huge distortion pedal user. I prefer overdrive or softer clipping sounds, although I do like certain fuzz produced tones.
Of all the distortion units I have had the opportunity to utilize or review recently, I had the highest hopes for the Kmise Ultimate Drive. I did some research, and several players believe it's a Fulltone OCD clone. That pedal is generally held in high regard. Perhaps they believe it's a replica because the Ultimate Drive has that high/low toggle switch on it like the OCD. I don't have the OCD, so I can't compare them for this review.
Almost as soon as I plugged my guitar into this pedal and turned the volume up on the amp, I knew it was good, but probably not my-just-exactly-perfect distortion device. However, the more I play with it, the more I like it. I grow fonder of the US Dream pedal the more I use it, too, and I really like that one now.
Coincidently, I also bought a used Boss DS-1 distortion device recently. Boss has sold over one million of them. Every electric guitar player has either heard of it or used it, and my first impression is that I don't like it as much as this pedal. It probably sounds great for what many players use it for, a lead boost, but that sound just isn't right for me. I can't dial the distortion out of the Boss pedal as I can with this one or even my project fuzz pedal. The DS-1 gets screechy and tinny where the Kmise effect is almost always nice and smooth. I have already looked into how to mod and tame the DS-1, so that may be a future project for me.
The last session I had with the Ultimate Drive, I was able to get a good Chuck Berry tone out of it. That was nice because I love playing that style of music. Just for comparison's sake, I also tried it against the fuzz pedal I built. My pedal doesn't have as many options for modifying its overall sound, but my pedal still holds up pretty well against the KM-02. Like the other Kmise pedals I've tried, there is plenty of variability in sounds just by twisting those knobs. The tone control on the KM-02 goes from raunchy, dirty, in-the-mud lows to clear and articulate highs. The level control is not as smooth for dialing in the perfect setting for me as the tone knob is. It also has a high/low switch that I haven't figured out exactly how to make the best use of. Right now, it's just one more variable that makes this device really good but probably not my "ultimate drive" pedal.
I've reviewed four Kmise pedals to date, and this is my third favorite pick of them all. That's no fault of Kmise, by the way. I have to say, though, the pedal works perfectly: it looks nice, it's very inexpensive, and it doesn't take up much space on my pedal board. The true bypass design and the toggle switch make it more versatile than a lot of distortion pedals on the market. I'm not going to give up on this one. I'll continue to use it with my Line 6 Flextone III modeling amp to see if it sounds better going into one of the many head unit or cabinet simulations that amp offers.
In general, I've found Kmise a very good company to work with. I receive prompt replies when I have questions for them. They deliver the pedals quickly and most of them work perfectly. Their guitar effects are built to last, and the prices are very agreeable. If they come out with reverb or booster pedals, I'll buy them. The only other pedal they currently offer that interests me is the Analog Chorus. I'll most likely try that one in the future. I already have plenty of ways to dirty up my guitar sound with the devices I currently own, so it's no more distortion pedals for me now.
There is one nagging thing with that Kmise Vintage Phase I wrote about at the beginning of September. I still hear faint RF interference noise from it. It's the only pedal I own that exhibits that annoying problem. Again, it may be the pairing with my old Line 6 Flextone III solid state amp, but I don't use that pedal any more because of the RF issue. That pedal is my least favorite of the bunch. But I do have to say, the phase effect itself sounds very nice when that radio interference is not heard in the background.
The US Dream pedal I bought on eBay based on another product review I read is my favorite of the Kmise offerings. It produces more of the vintage type of distortion I like to hear. It can be shaped to respond more like a boost box, too, which makes it more versatile for me. It's the pedal that prompted me to contact Kmise about reviewing their products. The Digital Delay they sent me is also a solid effect, and I'll continue to use it until I can afford a programmable delay.
What's next for me and the blog? Maybe a hiatus. I really want to get back to playing guitar. I feel like I've been spending too much time writing, and that's not my passion. The thing that's made me most happy lately is that Sweet Little Diode Fuzz project -- I love that pedal! For me, it's got a great growl to it. I'd like to have a switchable buffer pedal someday, so that may be my next endeavor, building one of those. If I do that or have anything else relevant to discuss, I'll post about it here. Until then...
Visit the official Kmise website
Follow this link to get more information or to purchase the Kmise Ultimate Drive pedal on Amazon

Another electric guitar electronics project: Sweet Little Diode Fuzz pedal I built following an online article...
Posted September 19, 2020, and last updated September 19, 2020 by Chuck Miller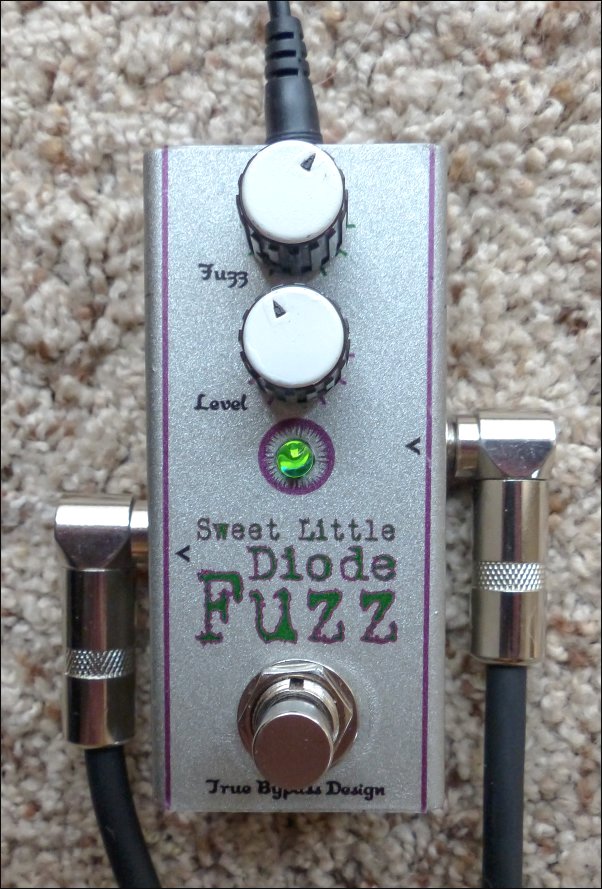 Since I didn't have a fuzz pedal yet, I decided to build one. For those unfamiliar, fuzz distortion is part of that guitar sound Jimi Hendrix articulates so well on the song "Purple Haze." A "fuzz" pedal distorts a guitar signal in a distinctly (oftentimes) pleasing way. It's an easy guitar sound to recognize.
I followed Rob Cruickshank's excellent article on MusicWorks to build my first fuzz pedal project . The article is very well written with detailed photos that help illustrate what he's doing all the way through. I chose his fuzz pedal, primarily because I already had all the parts needed to make it already. I used a pedal housing from a broken stomp box along with capacitors, an op-amp, resistors, knobs, and other components I had on hand. I liked the fact that it primarily uses two diodes to produce the fuzz sound rather than using transistors. I haven't had very good luck with using transistors on past audio projects. The specifications on them vary so much you never know what you are going to get. Some people actually test hundreds to get just the right ones. I don't have the time or patience for that. For an example of how wide the tolerances and aspects of individual transistors vary, the fuzz pedal Hendrix used on "Purple Haze" was manufactured using germanium transistors, which are not temperature stable. So, in every different location Hendrix used that pedal, it sounded slightly different because of room temperature fluctuations. That's crazy! Knowing that, I generally stick with op-amp circuits, which don't have such wide tolerances and quirks.
It was a bit dicey getting everything stuffed into that mini stomp box, but in the end it all worked out fine. I'm calling it Sweet Little Diode Fuzz because of the small size and because it uses two N1914 diodes to produce the fuzz sound. It's externally powered because there is no room for an on-board battery in that enclosure.
After I worked out how to get all the parts into that little box, I ran it through some tests. I demoed it against a Kokko Overdrive and the Kmise US Dream distortion pedals I already have. It held its own surprisingly well considering it's only using two diodes to produce the distortion. I was able to emulate the Kokko, which is a Tube Screamer clone, fairly well. The effect with my pedal is not as refined as with the Koko device. To be fair, the Sweet Little Diode Fuzz doesn't have a tone knob, so it's not an apples to apples comparison. I couldn't get it to sound much like the Kmise pedal, though. That pedal is truly unique. My pedal is barely noticeably noisier and generally warmer sounding than both of the comparison units. It can also produce very, very heavy distortion. That amount of dirty isn't my particular style, but I can appreciate the effect, and I am pleased that it still stays warm sounding when pushed that far. Even though it has a warm timbre, it doesn't sound muddy at all. I kept wanting to play the Derek and the Dominos version of "Little Wing" and surprisingly the Grateful Dead's version of "Morning Dew" with this pedal on the lower distortion side of the fuzz setting. One important feature of a good sounding guitar pedal is that it makes you want to play your guitar. I absolutely love the sound of my guitar going through it. I'll call the profile of this pedal warm with a scooped mid-frequency tone. I like it and I have found this pedal has more range, going from mild overdrive to all out screaming rage than the other distortion stomp boxes I own. I may replace the TLO72 op-amp with a less noisy device at some point, but even the latent noise it produces doesn't bother me. One more thing I noticed is that it feeds back very easily when needed. So overall it's just a good old fuzz pedal with all the quirks of that particular guitar effect.
I have to say, there truly is nothing like the feeling of soldering together a bunch of seemingly random components to make something so cool sounding and useful as this from scratch. I'm constantly amazed when I power up a new project and it actually works as intended. This one I assembled on a standard, electronics strip board pictured to the left. Working mostly at night for an hour or two at a time, I figure I have about 8 hours total invested in it. That includes drilling, priming and painting the enclosure, designing the top artwork, wiring, testing, fitting, and assembly. I may get in there and change some components to make it a bit more refined in the future, but as is, this pedal is a worthy addition to my pedal board. One thing I decided when I began making my own pedals is to put level indicators on the top of the case for each knob. For me it's something I miss on many mass produced stomp boxes. I like to be able to dial in the exact level settings I want on every guitar effect I use.
Some details on the build... I chose to change a couple of things from the original design in the article. The schematic called for just one potentiometer to control both volume and fuzz level. A one-knob effect is sometimes appealing but not in this case. That design produced way too much overall output gain for me. I decided to add a 20k audio taper volume control at the output of the circuit. This allows for the first knob to just control the signal level that pushes the op-amps and diodes into distortion and in turn allows me to control the overall volume before it exits the pedal with the second control. I also used a true bypass style on/off foot switch instead of Cruickshank's simple on/off toggle switch. I have the philosophy that a straight through guitar signal is oftentimes better than going through a buffer in a high impedance signal chain.
I always end up spending a lot of time on the case art and design. I'm mostly happy with how this one looks. Originally, I had the coloring in the lettering a cooler blue, but it didn't look good with the green LED I already had. So, I changed the color to green to match the LED, which makes it look better. I've been using Cricut brand Printable Clear Sticker Paper printed on an HP laser jet printer for the graphics on my project pedals. The only drawback in using that product is that it locks me into designing around the color the pedal is painted because it always shows through the clear section of the sticker in the final product.
As with anything I post here, drop me a line if you have any questions or need more information. I'll always do my best to help. I'm passionate about this stuff, and I love discussing anything audio related. My contact information is here: Contact
What's next? Kmise is sending me another distortion pedal, their Ultimate Drive which reportedly emulates the revered Fulltone OCD. I've never felt compelled to buy the pricey OCD, so I've never heard it. However, I'm looking forward to hearing what a clone of that distortion effect sounds like. Before my sponsored guitar pedal reviewing tenure is over, I will have a fairly good selection of cheap overdrive and distortion effects. I'm thinking that's not necessarily a bad thing.
Follow this link to view the original article I used to build my Sweet Little Diode Fuzz pedal
An electronics project: Building a great sounding digital delay effects pedal from a DIY kit purchased online...
Posted September 8, 2020, and last updated September 8, 2020 by Chuck Miller
Delay is one of the most used and useful effects a musician or engineer can use in creating music. You hear the effect as slap-back on early blues and rock-and-roll records. It's currently used in studios and in live sound reinforcement on voices and practically every other instrument. The effect is often used to call attention to a lyric or a musical section within a song.
When I started re-learning to play guitar, getting a modern, good sounding digital delay was at the top of my list. I've loved the effect on electric guitar since I heard Alex Lifeson use it to great effect on the title song from RUSH's 1976 album 2112.
I hadn't used my soldering skills in a while, and I didn't want to spend much money on this thing, so I went about finding a digital delay I could assemble from a DIY kit. I chose a promising appearing kit from a company based in China that was sold on eBay. It cost me $26.30, which in hindsight I think is a real bargain. When the kit arrived from China (it took a couple of weeks), there was a card inside with this URL on it: http://www.prolandtone.com/. The link brings up a web page for the Prolandtone company located in China. Many of the links to products on that website don't work; therefore, the site isn't very useful. At the end of this blog entry, I have posted a link to the eBay auction I used to buy my kit. There's no guarantee that this kit will be available for long.
Once in hand, it didn't take me long to populate the circuit board with the components and solder it all together. The process that took the longest for me was coming up with paint and graphics for the case since I really didn't like the graphics that came on it. On the picture below is the finished pedal. I liked the blue color used on the stock device, so I used it in the final graphic. I wouldn't advise trying this kit as your first DIY guitar pedal project as there are lots of wires and it has quite a few components that need to be soldered on the circuit board. It did come with a high quality PC board, which was labeled with the component values that need to be soldered into each of the top-side holes. The components included were of high quality, too. It was nice to see 1% metal film resistors, sockets for the IC's, and good quality capacitors included in the parts bag. Even so, I had to do some troubleshooting to get it to work after I got mine assembled. A jumper wire needed to be installed that wasn't noted on the PCB or online schematic.
I had my doubts as to how well it would work and sound. Once I completed assembly, I thoroughly tested it, and to my surprise, it sounded very, very good. It doesn't generate much extraneous noise. The three controls -- delay time, feedback, and mix -- are very useful and intuitive to use.
The device sounds the way it does due to employing the commonly available PT2399 digital chip, used in many modern delay devices. I read on a DIY pedal board site that it has a more analog sound due to the filtering used to cut the high frequencies the PT2399 passes. It appears that the chip may be slightly too perfect sounding and needs some taming. Whatever they did, they did it well because it's a very nice analog sounding delay.
I've been using it for a little over a month now, and I'm very happy with it. It's currently my main guitar delay pedal, despite having a couple of commercially made digital delay pedals to use.
To find the same kit I bought, paste "Delay DIY Guitar Pedal Kit with Delay-1 Pedal PSB and PT2399/TL077" into the search box on eBay or use the link below. I don't have any affiliation with eBay, TTone, Prolandtone, or any of the other companies I've mentioned in this blog entry.
Follow this link to view the eBay auction I used to purchase my analog sounding digital delay pedal kit

A guitar accessories project - A homemade effects pedal board made from a large Home Depot wooden crate...

Posted September 8, 2020, and last updated September 8, 2020 by Chuck Miller
Since I hope to keep my blog alive in the live music-starved days and months of the pandemic, I'm going to continue to share some more guitar oriented items here. I promise I'll get back to recording, concerts, and other live music-centric topics as soon as possible.
Playing guitar again has re-ignited my passion for DIY projects, including inexpensive ways to make needed accessories and getting back into working on electronics projects. This includes making projects from scratch and modifying already assembled items to be more useful for me.
So, let me start with the homemade, wooden guitar pedal board I assembled last month. Of course, I need some way to manage my growing collection of guitar effects pedals. When I started shopping for retail pedal boards, I found them to be over-priced for the size I wanted. My ideal guitar pedal board holds at least 10 pedals and costs less than $50. I couldn't find an existing product that fit that bill, so I decided to make my own.
I checked Google and read that many do-it-yourselfers have made them out of the pieces of a disassembled IKEA crate. I found a YouTube video by Matt LeFevers that shows exactly how to do it. Follow the link at the bottom of this blog entry to watch that video. There are many more videos, if you're interested. Just type "IKEA crate pedal board" into Google (or your favorite search engine), and you'll see pages of tutorials and ideas to get you started. Since I don't live very close to an IKEA and don't appreciate long lines, I bought this large wooden crate (pictured above) at Home Depot for $12.98 that worked just as well.
For what it's worth, and since I have been reviewing some guitar pedals with reimbursement, I don't have any affiliation with Google, IKEA, Home Depot, YouTube, or Matt LeFevers.
It wasn't difficult to make the effects pedal board after watching the video, even though the Home Depot crate was slightly different than the IKEA. The box I used necessitated that I use my sabre saw to cut the sides of the box to make it slant up like the one in the YouTube video. I think my version is probably more stable.
I disassembled the slats I needed and reattached them using Gorilla glue, which is much stronger than the wire brads used originally. I also reinforced the sides with some metal L brackets. The finished board measures 18" long x 9.5" wide x 2.5" tall and holds plenty of effects pedals since I like to demo multiple combinations of the effects to compare them and use them properly.
To finish it up I painted the whole thing satin black and covered the slats with industrial strength Velcro. As you can see, it's essentially the long side of the crate the pedals rest on. The loop part of the Velcro was placed on the slats, and the hook portion of the Velcro is adhered to the bottom of the individual pedals so they stay in place when placed in the slats. I also mounted a thin pedal power station (not pictured) under the slats to power all the pedals properly without using the valuable space on top of the board. I'm quite pleased with the results. After making it, I still have enough wood left over from that crate to make another smaller effects pedal board if needed some day. If you want to try making one like this yourself, contact me. I'd be happy to share more details with you if you want to build a pedal board like this one.
Follow this link to the large Home Depot box used to make my pedal board
Follow this link to the Matt LeFevers YouTube video detailing how to make this pedal board

Another guitar effects pedal review: The Kmise Vintage Phase is a very nice sounding phase shifter...
Posted September 6, 2020, and last updated September 30, 2020 by Chuck Miller
Vintage Phase is a fitting name for this somewhat generic looking device. My first impression is that it sounds quite similar to the MXR Phase 90, which is the old-style gold standard for guitar phase pedals. Fittingly, this Kmise pedal housing has a gold flake paint job, perhaps paying tribute to the reference pedal that sports a similar orange color. The Vintage Phase also has only one knob labeled "Speed" and a red LED like the MXR. The effect housing measures 1 5/8" across by 3 5/8" long and 2" tall including the height of the power button. The aluminum case is very sturdy, but its small size doesn't allow for an onboard battery. So, you will need a separate 9v power supply to use it. It's nice and quiet, and I don't detect any boosting or cutting of the guitar signal through the pedal. The tone of my Stratocaster remains intact when the pedal is engaged.
To finish up on the features, the pedal also offers true bypass and a silent on/off foot switch.
I can tell you that Kmise customer service is very good as I had the opportunity to contact them. When I started testing the unit, I heard radio interference coming through my amplifier when the pedal was switched on. I checked and tested everything thoroughly. Still, the problem persisted. I contacted Kmise and told them about the issue, and they sent me another pedal in less than one week.
When the second pedal exhibited the same problem, I did some research and read that the interference might be dirty AC power going to my older solid-state amp. So I bought an RF protected surge suppressor, and that did the trick. No more AM country radio coming through my old amp. The Vintage Phase pedal sounded crystal clear with the amp plugged into the new RF suppressor power strip. That made me happy because I genuinely like and have come to trust the Kmise pedals I've tried, and I found it hard to believe that they would send me two bad pedals. Also, now I could do a fair evaluation of this new, gold flake painted box.
I started by just strumming open position cords and found there is plenty of variety in sounds achieved by just adjusting that one knob. I would describe the sound as very clean and the depth of the phase cancellation as in the medium range -- think David Gilmour's sound on the Pink Floyd album Animals. For a deeper phase effect like The Grateful Dead's Bob Weir's tone in the late 1980's, you'll need a phase shifter with more control than this simple one knob pedal. At no setting does it distort or suck tone. It's pleasingly musical throughout the full range of the "Speed" knob. Just for comparison's sake, my guitar amp models the MXR Phase 90 in the effects section. The Vintage Phase and my amplifier's phase pedal patch sound very close, but not exactly the same. The feedback and mix are adjustable on the effect built into the amp, so it's not a fair comparison.
I'm selective about how I think a phase shifter should sound, and the Kmise Vintage Phase sits in that sweet spot for me. That's especially true when paired with my guitar and amp. I found it also sounds great when played before or after a distortion effect. If I were a touring musician, I'd probably want more control, but for playing cover songs in the basement and jamming with friends, this is all I need in a phaser.
This is the third Kmise pedal I've reviewed, and it ranks second in usability and sound for me behind the US Dream Distortion pedal I bought before I joined the Kmise Testing Club. I also need to disclose that I received this item for free in exchange for an honest review. If I didn't like it or if I found something wrong with it, I'd write that in the review. I can also say I'd buy this pedal in a minute for the current price of $21.99 on Amazon after hearing for myself what it sounds like. It sells for much less than one third the price of the reference pedal and offers sound close enough to it for many guitar player's needs. This one is a keeper for me on my growing pedal board.
Visit the official Kmise website
Follow this link to get more information or to purchase the Kmise Vintage Phase pedal on Amazon
Update September 23, 2020:
While I still like the sound of this phase pedal, I am also still experiencing RF interference with it in some situations. I can't say with certainty that's it's all the fault of the pedal, but none of my other pedals display this interference. I hear an AM country radio station's signal when I turn my amp up to moderate volume. I've looked at every other variable. It's not my guitar, cables or other pedals. When I bought and started using an RF filtered power strip the problem almost went away. At times, there is no interference, but at other times and places I can clearly hear the radio. Please make what you will of this info.
Update September 30, 2020:
Good news. I bought a JHS Little Black Buffer to put at the front of my effects chain and I placed a pedal with a built in buffer at the end of the chain and that has really cleaned up the RF interference problem with this pedal. It's very quiet now, so it's back on my effects board, as I really do like the sound of it.

Guitar effects pedal review: Another great guitar effects pedal from Kmise - the Kmise Digital Delay...
Posted August 30, 2020, and last updated September 1, 2020, by Chuck Miller
I love delay effects. There's nothing better than a subtle guitar slap-back sound on 50's rock-n-roll songs. Before digital took over, engineers had to run the instrument or voice through a tape delay or maybe another primitive analog device to get that effect. Now, all that can be done easily in the digital domain.
Recently, I hand built a digital delay pedal project based on the Rebote Delay 2.5 circuit. I'm very happy with the resulting pedal. It has an "analog" sound, due to the filtering used after the digital delay chip does its thing. It's the best inexpensive digital delay circuit I have heard.
So when Kmise offered me the opportunity to review their line of products, I jumped at the opportunity to try their digital delay pedal. I wanted to hear what the current digital delay devices could do. As a participant in their Testing Club, I received the effect for free in exchange for an honest review of the product. Previously, I had purchased their US Dream distortion effect without reimbursement, and I absolutely loved it. My last blog post is a review of that product.
So when the Kmise Digital Delay pedal (KM-08) arrived and I unboxed it, my first impression was that the pedal itself looked quite boring. It has three typical, unassuming (delay) Time, (effect) Level, and Repeat control knobs. It's housed in a thick aluminum casing that has a sparkly brown coating on it. It has a solid feel to it, able to be used and abused over many years. But it still looks rather generic to me.
I built that Rebote Delay 2.5 project last month because I didn't have a usable delay yet and I wanted to emulate the sound Neil Finn got on the Crowded House hit song "Don't Dream It's Over." That pedal is able to emulate the effect very well. So my first test for the Kmise Digital Delay pedal was to get the slap back echo sound on that song. It was easy and intuitive to dial that effect in. The knob settings were quite different than the ones I used on my pedal project, so the circuit is not exactly the same. The Kmise delay pedal has a cleaner sound to it than my project delay. The repeats are clearer and slightly more mechanical sounding. But it's still musical. Like my other delay pedal it does an excellent job of reproducing the guitar sound on that song.
I measured the Kmise Digital Delay pedal as having a maximum delay time of 583 milliseconds. The circuit is self oscillating, meaning that when the repeat knob is turned up to the maximum, the pedal will continue to produce delay endlessly. It's a strange effect, but for some people, it's important. Like my reference delay the Kmise pedal doesn't allow for "tails." Meaning, when you push the on/off switch while the delay effect is happening it immediately cuts the repeats rather than allowing them to continue. That "tails" feature is usually only found on much more expensive delay pedals.
I really like this pedal, although I'm not sure if it will completely replace my project Rebote 2.5 delay. I will stack them and use them together on my pedal board for a while. One advantage it has over my current delay is the maximum delay length. But, it's only a few milliseconds difference. My current delay outputs more white noise than the Kmise pedal, so subjectively the Kmise delay sound is slightly clearer. In a live environment that may be an advantage. It's also true bypass and requires a 9v center negative power supply as the case is too small to house a battery.
For comparison, I also have a Donner Echo Square digital delay pedal. It has several different types of delay that can be selected. But, that pedal outputs so much white noise when engaged that it is unusable for me. I like crystal clear tone, and the Donner digital delay I have doesn't allow for that. I've contacted Donner to see if the device I received is defective. The Donner pedal cost me $43 on Amazon. The Kmise Digital Delay pedal can be purchased on Amazon for $18.59.
To sum up, the Kmise Digital Delay pedal (KM-08) is an incredibly affordable digital delay effect. It doesn't sound harsh at extreme settings and is easy to use. It's very inexpensive for a device that sounds so good. If you want that clean, non-degraded delay effect and don't need more than a half second of delay time, it's a no brainer. Buy it. The more I use it, the more I think it'll replace my current delay pedal, mainly because it's so clean sounding.
So far, Kmise is batting 2-2 on its guitar pedals for me. I have a Vintage Phase pedal coming from them soon. That will be my next review. I hope it is as useful as the last two Kmise pedals I've received. I need a chorus pedal so I may review that one too in the future.
Visit the official Kmise website
Follow this link for more information on the Rebote 2.5 Digital Delay and many other guitar effect pedal projects
Follow this link to get more information or to purchase the Kmise Digital Delay pedal on Amazon

Guitar effects pedal review: The Kmise US Dream distortion pedal costs under $20 and sounds awesome...
Posted August 29, 2020, and last updated
August 29, 2020

, by Chuck Miller
I'm becoming a bit of an effects pedal collector since I started playing guitar again. I guess it's inevitable. But with me, I'm going for the least expensive effects pedals I can find that have good reviews and do what I want them to do. That brings me to Kmise and their US Dream (KM-04) distortion pedal which I recently purchased on Amazon for only $17.98! Here is a link to the Kmise US Dream effects pedal on Amazon.com. I see it sells for $18.59 now. That's still dirt (pedal) cheap.
It's a mini-pedal so there is no space for a battery. I use a Donnor 9v DC power supply, which works great. It's a true bypass pedal, so when it is switched off, it passes your guitar signal through like a straight wire. The housing is all thick aluminum and should hold up well over years of use.
The first guitar pedal I bought after all these years was a little outside my monetary comfort zone, which is why I'm focusing on inexpensive effects pedals now. I bought a boutique overdrive, the handmade Katana overdrive made by Velvet Pedals based in Greece. I wanted to hear that Dumble amp sound I've read so much about, and this pedal promised to deliver it. And, to be honest, I love the Katana pedal. It sounds great on the bluesy, jammy music I like to play, and it works to tame the aggressive sounding Fender Lace Sensor pick-ups in my made-in-Mexico Fender Stratocaster.
For comparison, I also have a Kokko Overdrive pedal, said to be a clone of the legendary Ibanez Tube Screamer. That pedal cost me less than $20 used, and I like this pedal quite a bit too. Between these two pedals, I figured I had all of the overdrive and distortion options I needed for my playing. Until now.
I bought the US Dream pedal after reading a short review at squire-talk.com. There is a link to the review below which includes a brief YouTube demo of what it sounds like. Read the comments too. Most people who bought one really like it. Reading the review and comments I learned I could have a great sounding effects pedal that can go from bluesy rock rhythm to distorted lead for about the price of a restaurant lunch. I'll tell you right now, this pedal delivers on that and then some.
There are three controls: Volume, Dist, and Tone. Since this is a high-gain pedal, the sound can get aggressive fast. I set that control between 9 o'clock and noon most of the time. The Dist setting is very generous in that it delivers everything from warm, bluesy overdrive all the way to heavy metal screaming. The Tone adjusts the sound from dark to bright. It's great for warming up the higher distortion settings when needed.
I've been able to emulate --not exactly, but pretty close -- both of the other distortion pedals I have by tweaking the settings on the US Dream. That's this pedal's best feature. As I explained earlier, it has a lot of range in that Dist setting. I think part of the reason I like it so much is because it's warmer than the Kokko Overdrive and not as warm as the Katana pedal. It bridges that gap. It's full and in your face which is a great combination for a distortion pedal. Another great use is as a booster for changing between rhythm and lead playing.
I can't think of anything substantial I dislike about this thing -- maybe that is has a generic looking exterior? How can they pack all of this goodness in a device that costs so little? It works and sounds great, it's so inexpensive, and it's built to hold up over many years of use. Don't let that purple plain Jane appearance fool you. It's what's on the inside that counts, and this pedal has the goods.
After I bought this and found that I liked it so much, I went to the Kmise web site and found they have a Testing Club. I decided to join because I love this pedal so much. So, in the future, I'll have more reviews of Kmise guitar effects pedals.
Hopefully reviewing some more of these pedals will keep me busy until I can get back to recording live music again.
Visit the official Kmise website
Read Don Sucher's US Dream squire-talk.com review
Check out Don Sucher's YouTube demo of what the US Dream pedal sounds like
Follow this link to view more YouTube demos and to hear how good this pedal sounds

My first live music experience since the virus hit - Jim Jam 2 - The Davenport Band rehearsal on June 27...
Posted July 2, 2020, and last updated July 2, 2020, by Chuck Miller
I was invited to attend The Davenport Band's rehearsal at Jim Rose's home last weekend. It was great to see and especially hear live music after all this time. The band set up outside under the carport in front of Rose's home in El Paso County.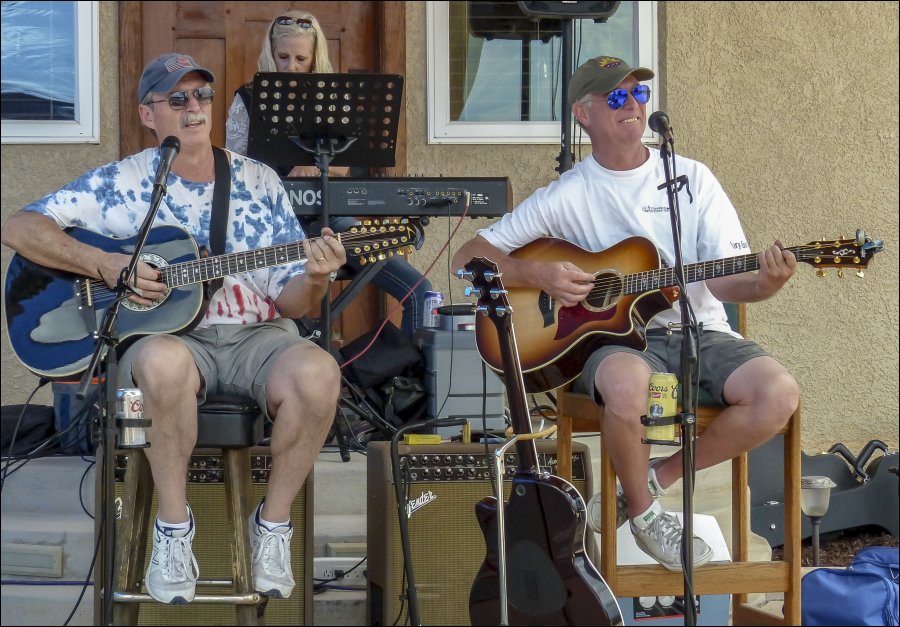 The band, Amy Binkowski - keyboards; John Byers - vocals and acoustic guitars; Paul Gagnon- vocals and acoustic guitar; Dale Maxwell - acoustic guitar and vocals; Tracy Meyhew - lead acoustic and electric guitars; Jim Rose - 12-string acoustic guitar and vocals, and Kevin Waybright - electric bass and vocals played more than 55 songs from approximately 1 PM to 6:30 PM.
Songs included covers "They Call Me the Breeze," Tom Petty's "Learning To Fly," America's "Sister Golden Hair," a good sampling of Grateful Dead songs, and some originals. I really liked "Into The Mystic," a Van Morrison cover.
There was plenty of social distancing, which was weird but necessary. I made a recording and took a lot of pictures. I'm waiting to hear from the band on what songs to include on the blog, but please enjoy some pictures I took at the event in the meantime.
The Davenport Band - 2020-06-27
What I'm doing during this unusual spring and summer, also known as "The COVID-19 Stay-At-Home Blues"...
Posted June 7, 2020, and last updated June 7, 2020, by Chuck Miller
When Colorado Governor Jared Polis enacted "stay-at-home" and currently "safer-at-home" orders for the state because of the COVID-19 virus, it became clear to me in mid March that this would be a summer without live music. Almost immediately I decide I'd need something constructive to do to pass the days, weeks, and now months.
I've almost always had a guitar to play since my parents bought me an Ovation acoustic when I was 13 years old. I never learned to be a great player, but I played acoustic guitar through high school and college as a hobby, mostly finger picking soft rock covers and traditional songs for myself and sometimes with friends.
I got somewhat serious about playing and bought an Epiphone Casino electric guitar in the late 1980's and put together a cover band that played Grateful Dead and Allman Brothers Band covers in my small basement apartment in Cascade, CO. Sadly, after lots of practicing and supporting other local bands a few times, I decided playing guitar live on stage was not for me. Looking back on it now, I'd call it perfomance anxiety.
Soon after, I sold all my guitar gear and used the money to buy some nice microphones. That's when I got serious about recording live music. I also did front of the house sound for a local band for a while in the early 1990's. I felt that was much more satisfying than playing on stage.
Fast forward to March 2020. Though I have a beat-up Gibson Maestro acoustic guitar, I rarely pick it up anymore, primarily because the neck isn't right so the string action is set too high for me to play easily.
Knowing I was going to have a lot of free time at home because of the pandemic response, I figured this might be an ideal time to re-learn how to play guitar, especially electric guitar as I learned to love hearing the power of electric guitar played through an amplifier when I played in a rock band.
So, in late March I saw a beautiful, black Fender Stratocaster at the neighborhood pawn shop. I felt it was calling to me. I consulted with some musician friends. They informed me that it was a good quailty guitar for the money. Shortly after, I saw an advertisement on Facebook Marketplace for an inexpensive Line 6 Flextone III digital modeling amplifier. So, of course, I quickly bought the amp and the guitar and started on a new journey.
It's been great fun re-learning to play electric guitar, even though my fingers and fretting hand hurt for the first month. I've been making time to pick it up and play every day. I'm mostly re-learning the songs I played when I was younger and have found some great tutorials on YouTube that are helping me learn new songs. My only goal is to have fun. I know that playing in front of people isn't my thing, so there's no performance pressure associated with this new adventure either.
Since I can't write about recording new live music now, I'm making my own music. Focusing on playing is also a great distraction from the new reality we're all experiencing this year. I never intended to write much about myself personally on this blog, but the subject matter is fitting. I don't feel I'm good enough to record myself playing yet, which may be the next logical step. But, who knows? Maybe that'll happen if I stick with it.

The Samples' latest musical offering is an Indian Summer you will never want to end...
Posted February 18, 2020, and last updated February 20, 2020, by Chuck Miller
It's been over five years since Sean Kelly's band The Samples released a new album. I'm glad the wait is over, and I'm happy to report the long wait was worth it. Indian Summer opens aggressively with crunching electric guitar, upfront vocals, and the heavy lyrics of "Some People." Kelly starts singing,
"Some people just want to bring you down
These people have enough to go around
Exploiters always on the run."
The last Samples' album, 2014's America, started out a bit heavy, too, with the ominous "Fukushima." I hear "Some People" as a better song and a step forward with a more accessible sound for the band. In fact, Kelly's guitar work reminds me of Neil Young's best work with Crazy Horse.
Kelly has always been reflective, often about the world as a whole, in songs like, "Ocean Of War," "Streets In the Rain," and "Buffalo Herds & Windmills." However, this fourteen-song epic is more personally reflective than any other recent Samples' collection. The lyrics, which are printed on the tri panel CD package, are deep and thoughtful. The music is nuanced and rich with Kelly and the band playing cohesively. Multiple listenings are rewarding, especially with the lyrics in hand.
The second song "Cry Cry Cry" is much lighter musically, still heavy lyrically, and ever so slightly country-tinged putting us in more familiar territory for a Samples' record. This song also sets the tone for the rest of the collection.
"Take My Hands" mimics the reggae sound of the earliest Samples' tunes and maintains the record's comfortabe feel before dropping into the stark cut "Train Tracks." The latter begins with sparse piano, then Kelly's doubled vocal, and later adds layered keyboards and vocal harmonies. Some of the vocal processing on this one is distracting to me, but it's still a provocative song.
One of the standout tracks is "Crooked Road." With nostalgic pedigree dating back to "Indiana" from Transmission's From the Sea of Tranquility, this song sounds familiar. It's as close to a radio hit as I hear on Indian Summer. I've been carrying this song's chorus in my head since first hearing it:
"I've been walking straight down a crooked road."
Another great track and a more upbeat offering is "Savor This Time Of Life With Joy (For Olivia)." With lush, melodic instrumental accompaniment, Kelly sings a love song for his daughter. The lyrics begin,
"There's no flaws in this beautiful girl, she's got the strength of an alloy
Born straight in to this judgement world savor this time of life with joy,

"
producing one of the most poignant and personal moments on the album.
There are several songs without drums on this CD. One of them, "Trinda," sounds more like a Kelly solo song than a band song. This is the most unique selection here. It's a bit trippy and features some tape-reversed electric guitar work in the beginning and as a reprise at the end. I enjoy the atmosphere created and hope to hear more pieces like this from Kelly and the band in the future.
If you liked the old Samples with Al, Jeep, and Andy, give "New World Order" a listen. It's got some of that old Samples' feel and wouldn't sound out of place on one of the early albums, like The Last Drag. This may be the happy, sleeper tune on this release, for it's even got some of that syncopated drum technique like Jeep MacNichol used to play on it.
"Bow To the Sun" is another sparse and appealing hit that builds as the song progresses. It's counted in by Kelly and starts with acoustic guitar and vocal joined by bass guitar, building keyboards, and multi-layered vocals conjuring the sound of "Mysterious Times" from America, but I enjoy this song more. There are even some unexpected horn flourishes at the end.
Production-wise, this is a warm, bass-forward recording that is easy to listen to and embrace. Unfortunately, there is no recording information to be found in the package other than the musicians' names and instruments played. That's too bad because the mixing and mastering sound good to me, and I'm curious about the production details.
The fourteen-song album finishes with the eponymous "Indian Summer." Co-written with long-time collaborator Tom Askin, "Indian Summer" offers a paradoxically sad and hopeful finish to an album that is more somber and mature than previous late period Samples' records. The song is a close cousin of "When the Day Is Done" from The Last Drag. The final lyrics sung are deeply personal and provide a reflective ending to this great work:
"I guess I'm not ready to share, my body with someone new
My body with someone new
I hope you never forget my face, the one so easily replaced,
If we could go back in time as lovers, or just two misunderstood lives
I'd give you a thousand Indian Summers just to give it one more try
I'd give you a thousand Indian Summers
I'd give you a thousand Indian Summers"
This evocative release Indian Summer is the equal of the original quartet's best work and epitomizes the clear, bright future of this line-up of The Samples. It's the best Samples' offering since my favorite 1997's Transmissions From the Sea Of Tranquility, and I can't wait to hear what they do next.
Visit The Samples official web site
Visit THE SAMPLES: Community Facebook page
Visit Sean Kelly Of The Samples Facebook page

Couch concert: Railroad Earth with Peter Rowan at The Mission Ballroom in Denver, CO, on February 1...
Posted February 2, 2020, and last updated February 4, 2020, by Chuck Miller
When I learned streaming service nugs.tv was broadcasting the Railroad Earth show at The Mission Ballroom live on February 1 for free, I got excited. I haven't seen RRE since December of 2017 at the Fox Theatre in Boulder, and I was in need of a Railroad Earth fix and a new entry in my blog for February.
Couch concerts appeal so much to me as I get older. Reason number one is comfort. I can watch in my own home, even sitting on the couch if I want to. I don't have to stand all night on a crowded floor. I can eat whatever food I want, be close to a nice bathroom, and I can play the music as loud or as soft as I like. Add in that the drinks are cheap and I don't have to drive home for an hour or more after the show, and I'm a very happy guy.
When I saw that Peter Rowan was going to play with them and the group was going to cover the iconic 1975 bluegrass album Old & In the Way, which Rowan wrote some of the songs for and perfomed on, that sealed the deal for me. Yee haw!
The music started at 7:52 PM with Horseshoes & Hand Grenades out of Stevens Point, Wisconsin. These 5 guys are a young but talented traditional bluegrass band. Acoustic guitar, double bass, fiddle, banjo, squeeze box, and harmonica, with no drummer. They all sing around a central mic and have a rootsy, homespun sound. The sound of the band coming through my home speakers was actually a bit unsettling at first because of the rawness, but I got used to it quickly. Guitarist/singer Adam Greuel kept the crowd entertained with friendly banter and helped keep the show moving as the rest of the band tuned their instruments between songs. I enjoyed their 55-minute set consisting of mostly original songs. They even played a stripped down cover of my favorite Talking Heads hit "This Must Be the Place (Naive Melody)."
Railroad Earth walked onto the stage at 9:16 PM with Peter Rowan and RRE guitarist and vocalist Todd Sheaffer sharing center stage. The first song was of course "Pig In A Pen." As promised, the first set consisted entirely of the album Old & In the Way by the eponymous band played in order and concluded with the gorgeous and haunting Rowan-penned "Land Of the Navajo." It was wonderful and the most powerful song of the night so far. I also noticed the mix was much better for the RRE set. There was more stereo separation and the low end was much tighter. Simply stated, it sounded great!
The band minus Rowan started set two at 10:40 PM playing the upbeat number "Mission Man" then "Happy Song." A few songs later, in his last appearance with the band for the night, Rowan came out and did a heartfelt version of his classic tune "The Cuckoo Bird." Next, the band launched into "Colorado," which got the home crowd excited. By now, it was clear the band was playing well and the audience was really enjoying the show. I know I was.
"Mighty River" with it's sing-along chorus was a highight for me as was "Like A Buddha" later in the set. "The Great Divide" wrapped up set two. When the band came back for the encore, fiddle player Tim Carbone asked the audience to yell "Happy birthday, Phil" to a friend who was at home watching the show like I was. The audience enthusiastically obliged and the band ended the night with "RV" and a nuanced rendition of the group's namesake "Railroad Earth."
I just love experiencing live concerts at home. I'm going to be doing more of this in the future. A few minutes after the last note was played, I was in my own bed and dreaming of the show I just saw. I have included links to the bands, venue and streaming service below. Please check them out and support the bands and the venues that host concerts to help keep this great music alive in Colorado and elsewhere.
Visit Railroad Earth's official web site
Visit Peter Rowan's official web site
Visit Horseshoes & Hand Grenades official web site
Visit The Mission Ballrooms official web site
Visit nugs.tv's official web site



A stripped down version of Colorado Springs' Davenport Band performed at Patty Jewett on January 17...
Posted January 18, 2020, and last updated January 18, 2020, by Chuck Miller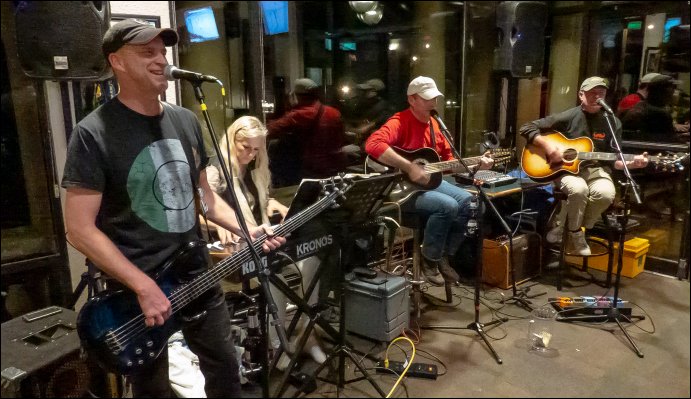 Bassist Kevin Waybright, keyboardist Amy Binkowski and guitarists/singers Jim Rose and John Byers entertained a small but very enthusiastic audience at the Patty Jewett Bar & Grill in Colorado Springs on Friday night.
They played their typical mix of soft country and folk rock including covers of Grateful Dead, Tom Petty, and Van Morrison songs.
One thing that is noteworthy is that The Patty Jewett Bar & Grill had a free happy hour buffet last night. It included fried cheese, steak fries, small fried weinies and flat bread pizza. We also ordered a spinach salad and a plate of buffalo chicken wings from the appetizer menu that were very good too.
I didn't record the band this time. Maybe I should have, as they played very well and the crowd was really into it. There was a good bit of audience participation in singing the choruses on some of the songs. "Into The Mystic" was one good example. Amy Binkowski told me the band is playing twice at Hillside Gardens this summer, so I'll probably record at least one of those shows and write a more in-depth review.
Visit The Davenport Band's official Facebook page
Visit the official Patty Jewett Bar & Grill web site



Cracker and Camper Van Beethoven usher in the new decade at The Soiled Dove Underground in Denver...
Posted January 1, 2020, and last updated January 2, 2020, by Chuck Miller
My last concert of 2019 and first live music set of 2020 was the Camper Van Beethoven/Cracker double bill at The Soiled Dove Underground in Denver on New Year's Eve.
I've come to consider The Soiled Dove Underground to be one of my favorite indoor venues in the state. The 300-capacity venue is terraced so every seat has a clear sight-line to the stage. There's a generously sized dance area right in front of the stage that is a nice alternative to the ticketed seating area and allows front row viewing and dancing. There is also a very nice bar, The Tavern, upstairs that serves great tasting appetizers and entrees along with a great beer selection. I usually get a pre-show meal there before the music starts downstairs.
CVB started the night at 9:15 PM and played a 55-minute long set that included "Tania," "Oh Death," "Take the Skinheads Bowling," and "S.P. 37957 Medley."
It was a very enjoyable set. Unfortunately, the sound was not ideal, even in our centered upfront seats. It was hard to hear band leader David Lowery's voice clearly during many songs. But, since most of us were long time fans, we knew what he was singing anyway.
My favorite song of the Camper set was "(We're A) Bad Trip," which had multi-intstrumentalist Jonathan Segal trading lead vocals back and forth with Lowery. I can't recall the last Camper set I heard where they didn't play "Sweethearts," which I consider their best song. I wish they played that one. Other than that, I thought it was a great set.
Cracker took the stage at 10:45 PM and started with an unexpected cover of the Jerry Garcia slow burner song "Loser." Though I prefer the original, it's always good to hear Cracker cover it. "Friends," which has Lowery and guitarist Johnny Hickman co-singing, was much appreciated, too. I love how Cracker mixes their sets up, playing rockers juxtaposed with slow quiet songs. So, before playing their biggest radio hit, the rocker "Low," they played the quiet "I Want Everything," which was very nice. Hickman's tor de force "Another Song About the Rain" was next and the highlight of the one hour and 42 minute long set. Between Hickman's "California Country Boy" and Lowery's "Happy Birthday To Me," they did a countdown to midnight. We all toasted with complimentary champagne handed out earlier by the venue.
The show ended with the upbeat "Been Around the World" from the album Gentleman's Blues as the encore. That song and the whole show was a great way to end 2019 and begin 2020.
I recorded both sets and took some photos, which can be accessed by following the links below.
Thank you to morst, Cracker, Camper Van Beethoven, The Soiled Dove Underground and FOH engineer Chris for the assistance and access given to make this recording.

Cracker ~ 2019-12-31 The Soiled Dove Underground, Denver, CO

Camper Van Beethoven ~ 2019-12-31 The Soiled Dove Underground, Denver, CO
Camper Van Beethoven - 2019-12-31
Please help support both of these great bands and the venue.
Visit Cracker's official web site
Visit Camper Van Beethoven's official web site
Visit The Soiled Dove Underground's official web site

All blog entries... | 2023 | 2022 | 2021 | 2020 | 2019 | 2018 | 2017 | 2016 | 2015 | 2014 | 2013 | 2012 |
© time between the notes... 2012-2023 All rights reserved.