Home | & recent blog entries
I'm Chuck Miller. Welcome to my live music recording information site and blog. Recording live music performances is my passion. Here you will find links to live music recordings and information about recording live music. You'll also find some DIY projects, reviews of concerts and albums, as well as concert posters, tickets, art and photographs and links to some of the recordings I've made of bands over the years.
Many of the recordings I make are with just a stereo pair of microphones located in the audience section of the venue. Occasionally, I'll arrange to get a soundboard feed to mix in with the microphones to make a blended (matrix) recording. This technique takes advantage of mixing a time adjusted, usually dry PA feed with stereo microphones that capture the PA and the audience at the same time. Those are some of my favorite recordings. If all the elements cooperate the results can be very nice.
I don't record bands covertly. Every recording I share here was made with the permission of the band and is available for free download and streaming. I follow the concert tapers code of conduct which means the bands allow me to record their live performances as long as I don't profit from it and I share the recordings freely. If you have questions or concerns please contact me. My info is on the Contact page.



The Beat goes pre-Valentine's with Stompin' George Eldon and his band at the Gold Room in CO Springs...
Posted
February 16

, 2019 and last updated February 16, 2019 by: Chuck Miller
KCOS Digital Media brought Stompin' George Eldon and his four-piece band to The Gold Room in Colorado Springs on February 13 for The Beat Goes On global internet radio show. Hosts Mark White and Lisa Carns interviewed Eldon and the band and entertained the intimate but lively group of music fans between songs.
The show started at 7 PM with the band playing their originals "The Stars Have Amnesia," "Barefoot (Ol' Time Happy)," and "Rainbow Song."
The sound in the venue was great. The band played well, though I felt like the radio show format sometimes slowed their momentum. But, of course the hosts made it fun, and it was great to hear Eldon interviewed in depth about his songs and tell some interesting stories. I left feeling like I knew Eldon and his music much better than I had before.
Early highlights included hearing the new instrumental "The Cabana Song" and the confessional host chat after the song "Naked in the Graveyard." Of course, Chrys Bocast did her best to feed the hungry crowd during "Saltine Cracker."

There was also a Valentine's Day themed haunted house giveaway by My Bloody Valentine. That got host Lisa Carns out into the audience asking couples how long they'd been together. One lucky couple won free admission to the HellScream Haunted House on North Hancock Ave. After that, the band launched into the audience participation song, one of my favorites, "Johnny Depp." "Stoned Brown Girl" was also performed impeccably later in the set.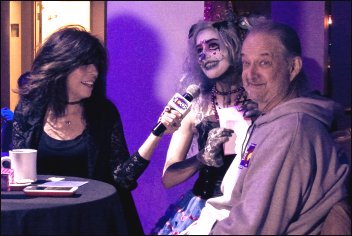 I've wanted to record Eldon since I first saw the band play at Mother Muff's in Old Colorado City last year. Hearing them play all originals for the whole night was a rare treat. The event ended at 9 PM with a strange and inspired pairing of the chorus of Buck Owen's classic "PFFT You Were Gone" with the original "Talk Some More Shit" which left the crowd wanting more. That certainly ended the set on a high note.
The two hour long professionally produced video show was
broadcast live and is archived on YouTube and on the KCOS Digital Media web site if you'd like to check it out. I enjoyed watching it and think it will be worth your effort to see if you're interested in the band.
Links to my audio recording and some photos I took during the event are below.

Stompin' George Eldon ~ 2019-02-13 The Gold Room, Colorado Springs, CO
Stompin' George Eldon - 2019-02-13



Colorado Springs tribute to Bob Dylan at Stargazer's Theatre & Event Center on Friday, January 18...
Posted

January 19

, 2019 and last updated February 2, 2019 by: Chuck Miller
Stargazer's Theatre & Events Center hosted the Colorado Springs tribute to Bob Dylan on Friday, January 18. The music started a little after 7 PM with Lindsay & Jeremy Facknitz who kicked the night off with a transcendent rendition of "Boots Of Spanish Leather." This was my first time seeing this talented duo, and they were easily my favorite act of the night. Lindsay's voice is clear, bright, and chill-inducing at times. Jeremy's guitar accompaniment was spot on and set the standard for the rest of the performers. On this song Lindsey reminded me of Natalie Maines, the lead singer for the Dixie Chicks.
Other first set highlights were Mike Judge's rendition of "I Shall Be Released" and Craig Walter's powerful takes on "Queen Jane Approximately" and "It's All Over Now, Baby Blue."
I was there primarily to see Chuck Snow's performance. I planned on splitting after his portion of the show, but I enjoyed the other bands so much, I stayed for the rest of the night. Unfortunately, each group only played four songs. As a consequence, they were all turning over
the stage at about the time they started getting warmed up. Fittingly, I thoroughly enjoyed Snow and his four-piece band's rendition of "You Ain't Goin' Nowhere," which ended the first set with the crowd wanting more.
Chris and Deb Mitguard got the second set started right with "I Am A Lonesome Hobo" from John Wesley Harding. Jason Miller's renditions of "Shelter From the Storm," "The Man In Me," and "You're Gonna Make Me Lonesome When You Go" were appreciated by me and the eager Bob Dylan fans. Miller only played three songs, but they were some of my favorites of the second set.
One of Dylan's most popular tunes "Blowin' In the Wind" was performed impeccably by K. J. Braithwaite, who also offered up the crowd favorite "Mr. Tambourine Man." Braithwaite's focus and command of the material was impressive. He was aptly rewarded with some of the most enthusiastic audience response of the night.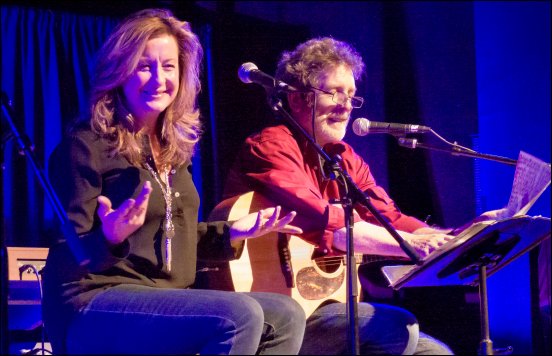 Stargazer's Theatre owners John and Cindy Hooton finished the individual live band performances with stirring readings of "All I Really Want To Do," "Shooting Star" and two others. I'd never seen them perform together. I thought they were very good. John Hooton's finger-picking guitar licks held up well against some of the more seasoned musician's work. A video taped rendition of "Chimes Of Freedom" by Anglum, Mock & Greene who couldn't make it to the live show played on the screen above the stage as the night's performers gathered together for the all-star last song of the night. A very disjointed but still fun version of "Like A Rolling Stone" capped the tribute at around 10:45 and sent the joyous Dylan fans out into the cold Colorado night.
I recorded the whole event, but I currently only have permission from Chuck Snow and John and Cindy Hooton to share their performances. That recording and some photos I took of each group can be accessed by following the links below.

John & Cindy Hooton ~ 2019-01-18 Stargazer's Theatre, Colorado Springs, CO

Chuck Snow ~ 2019-01-18 Stargazer's Theatre, Colorado Springs, CO
John & Cindy Hooton - 2019-01-18

K. J. Braithwaite - 2019-01-18

Jason Miller - 2019-01-18

The Mitguards - 2019-01-18

Chuck Snow - 2019-01-18

Craig Walter - 2019-01-18

Mike Judge - 2019-01-18

Lindsay & Jeremy Facknitz - 2019-01-18


Reflecting on why I like to make live music recordings and looking forward to doing more of that in 2019...
Posted and updated by: Chuck Miller
January 1

, 2019
I usually like to bring in the New Year while listening to live music. I can't actually remember the last New Year's Eve that I wasn't at a show or watching a pay-per-view event at home on the couch. I just didn't feel the need to get another live show in before 2018 ended. As luck would have it though, just before I went to bed last night I saw a Late Show with Steven Colbert re-run that featured Jeff Tweedy from Wilco singing "Let's Go Rain" from his new solo album WARM. That was a pleasant surprise and fitting end to 2018.
Looking back, I had a satisfying year, musically. I heard and recorded some new bands and attended concerts performed by old favorites. The older I get, the more I appreciate live music. The quality of live sound now plays a large role in that for me. PA systems, even in small clubs, sound much better than they did when I was young. I heard plenty of poorly mixed performances when I first started going to concerts. That was a turn-off. Now, I expect to be able to hear the words the singers are singing and also hear all the instruments clearly. These days, even small bands doing their own sound from the stage can achieve that. Stompin' George Eldon's band does that every time I see them. That's part of what makes a band worth recording -- good sound! When I started to hear really good sound at concerts, especially from the Grateful Dead in the 1980's, that's when I got interested in making recordings. That's what led me here.
When I buy a concert ticket or pay a cover charge to see a band play these days, I expect to hear high quality sound. That was the case with my last concert in 2018, which was the December 29 Cracker and Camper Van Beethoven double bill at the Soiled Dove Underground in Denver. I've seen both bands many times. I love their music. Both bands played very well, of course. But they also sounded great! It was easy to make a quality recording. You can read my review and listen to the recordings I made by following the link here if you're interested.
I'm looking forward to 2019. So far, I have tickets and plan to see moe., Big Head Todd and the Monsters, and Toad the Wet Sprocket at Red Rocks Amphitheatre. I'd love to see Wilco this year. I haven't made a personally satisfactory recording of them yet. Hopefully they'll play somewhere in Colorado, and I'll get the opportunity. Closer to home, there is a Bob Dylan tribute this month featuring among others, some friends of mine at Stargazer's Theatre and Event Center. Woodshed Red, a band I recently discovered and really like, is playing at that same venue in February. I'll record that performance. I want to record Stompin' George Eldon's band soon, too. They are so unique. I want to expose them to more people.
I also want to record some more diverse music in 2019. I see a lot of jam bands, mainly because they tend to be more open to being recorded. Contact me by email here if you know of a great local band I haven't covered yet. After all, that's part of my mission: to highlight and expose people to good live local music.
Well, those are some of my wishes for the coming year. I'm excited after learning about some of the events that have been announced already. If 2019 is anything like 2018 was, I'll be happy and busy making recordings and sharing them here with you. Cheers.


Other blog entries... | 2018 | 2017 | 2016 | 2015 | 2014 | 2013 | 2012 |
© time between the notes... 2012-2019 All rights reserved.